From our sponsors: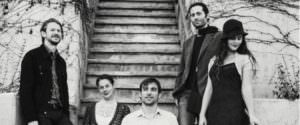 Elephant Revival, w/ Dead Horses
February 11, 2017
Doors 8 p.m., Show 9 p.m. | $ 25 | 21+
Tickets: aladdin-theater.com
Wonder Ballroom
128 NE Russell St, Portland, OR 97212
A haunting sound, at once evocative and mysterious, ushers in Petals, the latest album by Elephant Revival. Notes rise and suffuse the silence; are joined by a deep bass drone, a quiet pulse of cello and a percussive tick: daybreak made music.
That first sound on the lead track, "Hello You Who," is a steel guitar, and its cinematic swell foreshadows the exploration of new territory by this beloved Rocky Mountain ensemble. A new band member and the introduction of instruments like the pedal steel and the cello into their already impressive treasure trove of strings and percussion are just the beginning. Petals embodies a deepening, as the quintet dives into themes of loss and rebirth, time and memory, love unbound by body or farewell. "Hello you who moves with me in a dance/Hello you who moves me like the sea/…Who loves me Love loves me just to be." This hello is both a celebration of unconditional love and an invitation to join Elephant Revival in its wayfaring.
The death of a close friend having left its indelible mark on the band, many of the songs on Petals represent what guitarist Daniel Rodriguez calls "an honoring and a coping." But this is not an album about despair or darkness; it's a thanksgiving and a prayer for what endures and returns. "She thanks the sky, and she walks the earth/…To the broken-hearted, to the burdened, too/To everyone, peace tonight" ("Peace Tonight"). This idea is embodied in the very name Elephant Revival: moved by the separation and subsequent death of three elephants at the Chicago zoo, bass and mandolin player Dango Rose was inspired to busk in front of what was once their enclosure. Not just a gesture, but a true endeavor to create meaning and grace from loss. Petals, the band's fourth album, is, in fact, a revival.

Dead Horses
Originally hailing from a small Wisconsin town made world famous by a pair of overalls (Oshkosh, B'Gosh), the now Milwaukee-based trio have traversed most of the Great Lakes on the road to becoming acclaimed national touring artists. Since their formation in 2010, Dead Horses have cultivated a roots sensibility well beyond their years due in part to the powerful musical and literary force that is their frontwoman and songwriter, Sarah Vos.
Raised on Bible Hymns by her preacher father, Vos' backstory sounds more like that of an old bluesman from the Mississippi Delta than a young folk singer from Wisconsin. Vos' gospel, living free and unapologetically, is supported with conviction by Peter Raboin on mandolin and guitar, and Daniel Wolff on double bass. Despite their youth, Dead Horses have crafted a timeless sound, informed as much by modern folk as it is by the classics.