From our sponsors: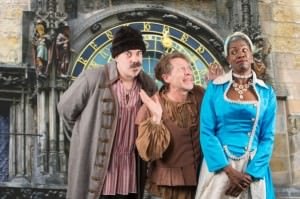 Christmas Revels: Christmas in Old Europe
December 6-15, 2013
1 p.m. & 7:30 p.m. | $7-39 | All Ages
Tickets: portlandrevels.org & 503-200-1604
The Scottish Rite Center
1512 SW Morrison, Portland OR 97205
The Christmas Revels is a fabulous cultural performance armchair travel adventure to different locations and cultures, rated one of Portland's top family holiday experiences since 1995. It's a favorite tradition for audiences of all ages, thanks to the show's hopeful themes, strong historical roots, high quality choral and instrumental music, seasonal comedy, different cultural focus each year, professional staging and direction, non-sectarian character and performances by some of Portland's best actors.
This new show (our 19th annual in Portland) takes audiences to a grand Winter Solstice party in Old Europe celebrating the unveiling of an extraordinary astronomical market clock (inspired by Prague's still-running historic clock built in 1410) and annual Mummers** competition. The Empress and her entourage attend the village party, enjoying rich offerings of traditional songs and dance from Central and Southeastern Europe (Romania, Bulgaria, Croatia, Russia, Georgia, Macedonia, Serbia, and Poland).
As the new clock chimes the hours, the show's story line explores time and the experience of human life as the cycle of seasons makes transit through the year.
As in every Revels, there's a 65-member chorus, lots of audience participation, a generous dash of silly business, and wonderful music from the Portland Brass Quintet and other special guests, including Eric Stern of The Vagabond Opera as Mayor. Ithica Tell is the Empress, and Revels fool Burl Ross is the clockmaker's zany assistant.
Directed by Bruce Hostetler, Music Direction by Robert Lockwood. Script by Gray Eubank.
Show dates and times are:
Friday December 6 – 7:30pm
Saturday December 7 – 1pm matinee and 7:30pm
Sunday December 8 – 1pm matinee  – and 7 pm **ASL interpreted
Thursday December 12 –  7:30pm **ASL Interpreted
Friday December 13 –  7:30pm
Saturday December 14 – 1pm matinee and 7:30pm
Sunday December 15 – 1pm matinee and 5pm