From our sponsors: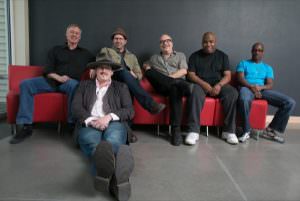 Bruce Hornsby & The Noisemakers
September 28, 2016
Doors: 7 pm / Show: 8 pm | $42.5 | 21+
Tickets: revolutionhallpdx.com
Revolution Hall
1300 SE Stark St, Portland, OR 97214
971 808 5094
In the mid-1990s, a decade after he showed the world and its airwaves that his soaring musical language included both Steinways and accordions, Bruce Hornsby took his family to the Annual Old Fiddlers' Convention in Galax, a town in the Appalachian southwest of Hornsby's native Virginia that has hosted the event since 1935. The trip reconnected him with his Williamsburg youth, a time when bluegrass frequently provided an historical accent to mid-'70s guitar rock, skittering and flowing out of high school gyms and trendy Georgetown bars, drawing halter-topped girls and suede-jacketed guys to Southeast festivals.
In the Galax parking lot full of campers and RVs, which he calls the site of "one big bluegrass pickin' party," Hornsby's wife emerged unconverted but his preschoolers went happily wide-eyed and Hornsby himself bought a dulcimer. The seller in the booth at the Festival couldn't hand Hornsby one to take home, but it soon arrived in the mail, this uncomplicated instrument with the "big rich ringing tone" that won over his ears, shipped from a company called Goose Acres in Cleveland.
A couple of decades later, that Galax purchase has yielded Rehab Reunion, Hornsby's piano-free new album that features guest appearances by Bon Iver's Justin Vernon as well as the magisterial soul-gospel singer Mavis Staples. Recorded in Williamsburg with The Noisemakers, produced by Hornsby, it's a trenchantly sung ten-song collection that spins into intricate dramatic scenes mundane things like skipping town ("M.I.A. in M.I.A.M.I."), calculating gratuities at restaurants ("Tipping"), and airport security as sensual experience ("TSA Man"). But it also captures rarer stretches of life that seek or attain transcendence.
"Some may ask, 'Why?', 'What in the world?'" Hornsby says of Rehab Reunion. "What I'm doing here is not about virtuosity: It's about a song and a singer. I'm really terrible at the dulcimer but that doesn't stop me. It's my punk moment."
Rehab Reunion hardly came out of the blue, though. "My first records had David Mansfield on fiddle and mandolin," Hornsby says, "and I was playing hammer dulcimer, where thin wooden mallets are used, and accordion of course. " Earlier Hornsby songs like "Shadow Hand" (from 1998's Spirit Trail),"Mirror on the Wall" (from 2004's Halcyon Days), and "Prairie Dog Town" (from 2009's Levitate) also featured or relied entirely on the dulcimer.
In his concerts those interludes often appeared and gained popularity – so much so that by 2011 the Bonnaroo Festival asked Hornsby, in addition to appearing with The Noisemakers, to perform solo with dulcimer on its Sonic Stage. "I gulped," Hornsby says, "swallowed hard, and said OK." Employing the entirety of his dulcimer repertoire, the set lasted forty minutes.