From our sponsors: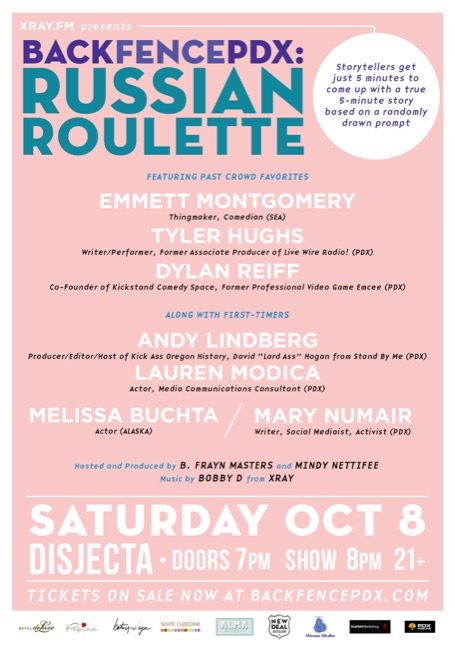 Back Fence PDX: Russian Roulette
October 8, 2016
7 p.m., 8 p.m. Show | $16-$20 ADV, $18 Doors | 21+
More info: backfencepdx.com
DISJECTA
8371 N Interstate Ave, Portland, OR
Russian Roulette begins with a full wheel of juicy story prompts. One of the 8 storytellers will be randomly drawn. They spin the wheel to decide the prompt for their story. They can play or pass. If they pass another teller can steal their prompt. Then the risky part…each storyteller has only 5 minutes to come up with a true 5-minute story based on that prompt! It's like we invented a new game called truth AND dare.
At the end of the night, the audience will select a winner who will receive 50 bucks and some other cool prizes from our sponsors totaling around $200 and, like, bragging rights for life. The winner will be invited to come back to the next show!
And a lucky audience member will win over $100 of prizes as well!
Storytellers for this round include returning crowd favorites:
Thingmaker, Comedian EMMETT MONTGOMERY (SEA)
Writer/Performer, Former Associate Producer of Live Wire Radio! TYLER HUGHES (PDX)
Co-Founder of Kickstand Comedy Space, Former Professional Video Game Emcee DYLAN REIFF (PDX)
Along with first-timers:
Producer/Editor/Host of Kick Ass Oregon History, David "Lard Ass" Hogan from Stand By Me ANDY LINDBERG (PDX)
Actor, Media Communications Consultant LAUREN MODICA (PDX)
Writer, Social Mediaist, Activist MARY NUMAIR (PDX)
Actor MELISSA BUCHTA (Alaska)
Created, Hosted, Produced by B. FRAYN MASTERS and MINDY NETTIFEE Music by BOBBY D from XRAY
Naturally, there will be free Saint Cupcakes served at intermission!