From our sponsors: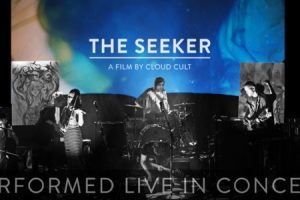 Cloud Cult
performs full score of The Seeker to film, plus a second set
August 3, 2017
Doors 8 p.m., Show 9 p.m. | $20 ADV, $22 Doors | All Ages
Tickets: aladdin-theater.com
Aladdin Theater
3017 SE Milwaukie Ave, Portland, OR 97202
Cloud Cult is an experimental chamber rock band from the Midwest who has stayed true to the concept of DIY "Indie Rock" for more than 15 years. The band has remained independent for the past decade and a half in favor of keeping total control of the ethical aspects of their music and business, despite enticing offers from notable major labels. In the process, Cloud Cult has sold over 100,000 albums out of lead singer/songwriter Craig Minowa's organic hobby farm. The band has come to be known for its philosophical lyrics, as Minowa has used many of the songs to search for answers to spiritual questions after the unexpected loss of his two-year-old son in 2002.
On a shoe-string budget, the self-managed band has taken their albums to the top of the CMJ charts, positioning themselves alongside artists with substantial marketing budgets. Cloud Cult's Light Chasers, released in 2010 and the predecessor to Love, landed them on the Billboard Charts, serving as the only truly independent release on the charts at that time.
All this success was made possible via Cloud Cult's self-made record label, Earthology Records, which was created by Minowa in the late 90s and was one of the very first green labels to come into existence. Minowa partnered his passion for music with his environmentalist background to start the label out of what he calls "necessity," due to the fact that there simply weren't options for environmentally friendly CD manufacturing in the industry at that time. Cloud Cult helped co-develop the now wildly popular recycled paperboard CD cases, and also created models for zero net greenhouse gas production for touring bands years before it was trendy. Both The New York Times and NPR have called Cloud Cult a leading pioneer in helping to green the music industry.
Cloud Cult's live shows include the rock band along with violin, cello, trumpet, trombone and French horn. Two live painters create original artwork on stage during each performance. Cloud Cult has participated in many of the US's leading festivals including Coachella and Sasquatch and has performed live on NPR's World Café, WNYC's Soundcheck and Last Call with Carson Daly. Minowa was tapped to score 12 hour-long documentaries for National Geographic's "America the Wild," and during the 2010 Superbowl, the band was featured in cartoon form performing their song "Lucky Today" in an Esurance commercial.
Cloud Cult will support the release of their latest studio album Love with a North American tour in March thru May 2013, including performances at this year's SXSW Festival. Along with the new album, the feature-length documentary on Cloud Cult "No One Said It Would Be Easy" will debut in early 2013 on Netflix, iTunes and Amazon. A full-length biography about Cloud Cult's journey as a band by author Mark Allister is slated for release in late 2013.