From our sponsors: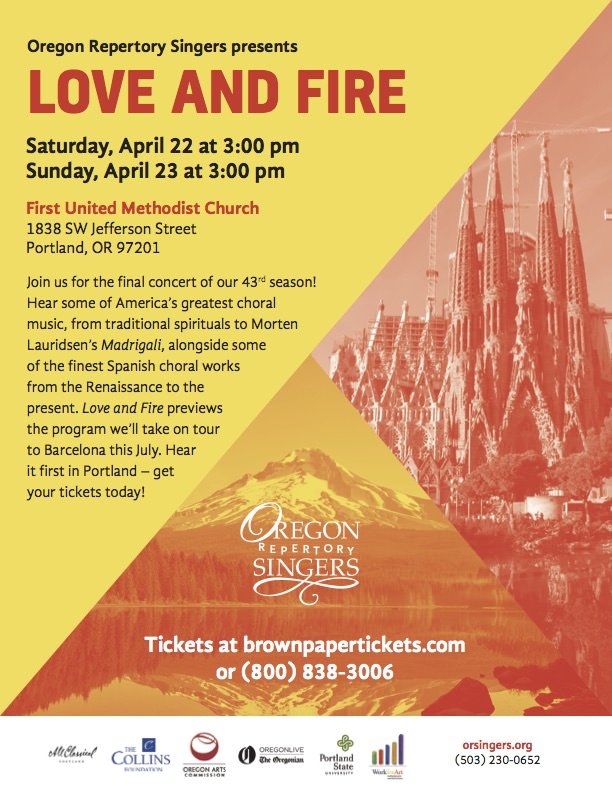 Love and Fire
Saturday April 22nd, 2017, 3pm
Sunday, April 23rd, 2017, 3pm
$15, $25, or $35
Tickets: orsloveandfire.brownpapertickets.com
First United Methodist Church
1838 SW Jefferson St, Portland OR 97201
In the final concert of their 43rd season this April, Oregon Repertory Singers will perform some of the greatest choral music from American and Spanish composers. Love and Fire will feature works from the Renaissance to the present day, previewing the program ORS takes on tour to Barcelona this July. Highlights from the program include American folksongs and spirituals arranged by Mack Wilberg, Moses Hogan, and Marques Garrett, and The Dark Night of the Soul from modern Spanish composer Carlos Surinach.
Artistic director Ethan Sperry frequently presents living and local composers, and in this concert the singers will perform Portland native Morten Lauridsen's Madrigali: Six 'Fire Songs' on Italian Renaissance Poems. Lauridsen—one of only two National Medal of Arts recipients from Portland—will help prepare the choir in rehearsals during his April visit. In addition to this stunning exploration of the themes of love and fire, ORS will share two of Lauridsen's most well-known compositions: O Magnum Mysterium and Sure on This Shining Night.
Oregon Repertory Singers couples this concert with a high school choral festival on Friday April 21st, co-sponsored by Portland State University. During the one-day festival, Morten Lauridsen will lead workshops and rehearsals with Ethan Sperry, offering students from several high schools the unique opportunity to work directly with the internationally acclaimed composer. Following the festival, participating students will be invited to join ORS for Lauridsen's Sure on This Shining Night in concert at First United Methodist Church.
With this celebration of choral treasures from Spain and the United States, Oregon Repertory Singers will inspire and entertain listeners, teach students, and bid adios to Portland before their Barcelona tour. Audiences won't want to miss "the city's finest large choir" as they draw their 43rd season to a close!