From our sponsors: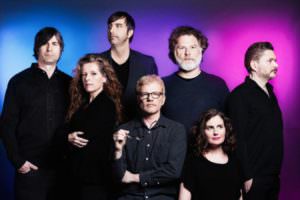 The New Pornographers
April 16, 2017
Doors 7 p.m., Show 8 p.m. | $35 | 21+
Tickets: aladdin-theater.com
Wonder Ballroom
128 NE Russell St, Portland, OR 97212
The New Pornographers have a new full length album called Whiteout Conditions coming out on April 7. It's the first release on the band's own Collected Works Records.
About the new album's first single, NPR declares, "Hold on tight: it's another relentlessly exuberant, propulsive jam from The New Pornographers. The latest in the band's deep catalog of clever and addictive power pop is "High Ticket Attractions,"
Of the new record, founder and frontman A.C. Newman notes that, "At the beginning of this record, there was some thinking that we wanted it to be like a Krautrock Fifth Dimension. Of course, our mutated idea of what Krautrock is probably doesn't sound like Krautrock at all. But wewere thinking: Let's try and rock in a different way."
Since their debut in 2000, The New Pornographers have released six studio albums including their most recent, Brill Bruisers, hailed as an "exuberant, synthpop-infused set" by Rolling Stone, "infectious" by Harper's Bazaar and "the grand and purposeful hookfest that you would hope these guys would come back with" by Stereogum. Pitchfork went on to note that "with the futurist sound of Brill Bruisers, the whole band embraces a more electric version of itself—bulked-up in chrome-plated armor, firing on all cylinders, and ready to steamroll anything in its path." The band celebrated the release with a special NPR Music "First Listen Live" concert at the legendary Brill Building, and performed songs from the album on both "Conan" and the "Late Show with David Letterman."
Waxahatchee
Katie Crutchfield's southern roots are undeniable. The name of her solo musical project Waxahatchee comes from a creek not far from her childhood home in Alabama and seems to represent both where she came from and where she's going. Since leaving home, Crutchfield has drifted between New York and Philadelphia but chose to return to Alabama to write her first two albums: American Weekend, her debut filled with powerful lo-fi acoustic tracks full of lament, and Cerulean Salt, a more developed and solid narrative about growing up. Both are representations of a youthful struggle with unresolved issues and unrequited feelings.
Waxhatchee's latest record, Ivy Tripp, drifts confidently from these previous albums and brings forth a more informed and powerful recognition of where Crutchfield has currently found herself. The lament and grieving for her youth seem to have been replaced with control and sheer self-honesty. "My life has changed a lot in the last two years, and it's been hard for me to process my feelings other than by writing songs," says Crutchfield. "I think a running theme [of Ivy Tripp] is steadying yourself on shaky ground and reminding yourself that you have control in situations that seem overwhelming, or just being cognizant in moments of deep confusion or sadness, and learning to really feel emotions and to grow from that."