From our sponsors: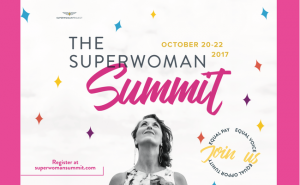 The Superwoman Summit
October 20-22, 2017
Starts at $497
More info: superwomanproject.com
The Embassy Suites by Hilton Portland Downtown
319 SW Pine St., Portland, OR 97204
Over 35 speakers in professional development, leadership, entrepreneurship, social change and executive management will offer powerful sessions to advance the leadership development of women.
The Superwoman Project is proud to announce the First Annual Superwoman Summit, a three day experience devoted to the advancement of strong, powerful women. The Superwoman Summit will feature some of the most formative thought leaders on the subject of women's empowerment to tackle the following issues:
Equal pay for women and men
Equal opportunity for promotion, responsibility, creativity and leadership for both women and men
Equal contribution from women and men in the boardroom, on teams and at meetings
Equal voice for projects, solutions and ideas A supportive, collaborative and innovative work culture for all
"Empowering strong women leaders is the most important issue of our time," says Founder, Jessica Williams. "Empower a woman and you empower the world." The Superwoman Summit is sponsored by Umpqua Bank and other locally based organizations.