From our sponsors: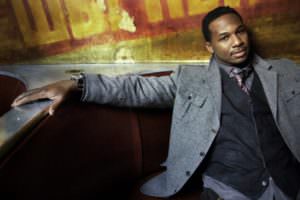 Robert Randolph & The Family Band
April 1, 2017
Doors 7 p.m., Show 8 p.m. | $25 ADV, $27 Doors | All Ages
Tickets: aladdin-theater.com
Aladdin Theater
3017 SE Milwaukie Ave, Portland, OR 97202
When Robert Randolph talks about his new album, Lickety Split, a few words come up over and over—"joy," "freedom," "energy." Which is no surprise, really, because those are the same things that immediately spring into a listener's mind when these twelve tracks from the virtuoso pedal steel guitarist and his longtime accompanists, the Family Band, explode out of the speakers.
"My thing is really upbeat, uptempo, with great guitar riffs," says Randolph, summarizing his musical ambitions, "but also catchy choruses and lyrics that someday will make this music into classic tunes."
"Robert Randolph is an American Original," says Don Was, President of Randolph's new label, Blue Note Records. "He has mastered what is, arguably, the most complex instrument in the world and developed a unique voice that is equal parts street-­‐corner church and Bonnaroo. This album finally captures the energy and excitement of his legendary live performances."
But for Randolph, the road to Lickety Split—his first studio recording in three years—wasn't an easy path. Though his distinctive mix of rock, funk, and rhythm & blues continued to earn a rapturous response from a fervent, international audience, he felt that he had lost some of the enthusiasm and intensity that had driven him to make music in the first place. "We just weren't being creative musically," he says. "Being on the road 280 days a year, you wind up playing too much and it isn't fun anymore. Soon, you stop being that concerned about how good you can be, how important it is to create and write. You kind of lose sight of that, of being focused on your craft and spending time with your instrument. I've become more in love with my guitar now, and staying relaxed and practicing and trying to create different sounds."
The new album showcases the unique chemistry of the Family Band—comprised of the guitarist's actual family members Marcus Randolph, Danyel Morgan, and Lenesha Randolph, together with guitarist Brett Haas. The eleven original compositions, plus a stomping cover of "Love Rollercoaster" by the Ohio Players, were produced by Robert Randolph & The Family Band, Danyel Morgan, Marcus Randolph, Tommy Sims, Drew Ramsey, and Shannon Sanders; engineered by the legendary Eddie Kramer (Jimi Hendrix, Led Zeppelin); and feature special guest appearances from Trombone Shorty and Carlos Santana.