From website: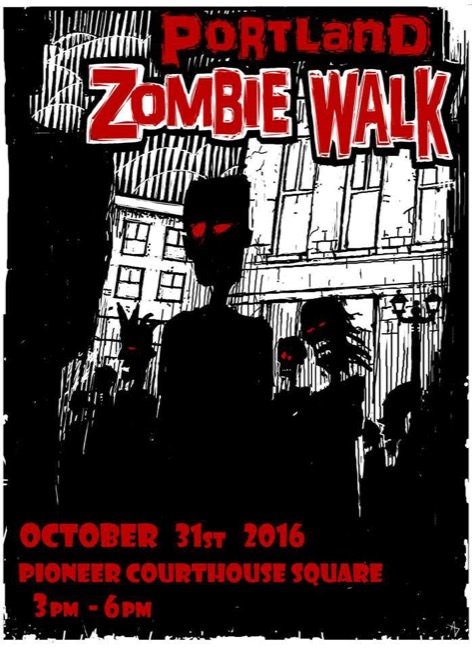 Portland Zombie Walk
October 31, 2016
3-6 p.m. | Free | All Ages
More info: Facebook
Pioneer Courthouse Square
701 SW 6th Ave, Portland, OR 97205
Be prepared to scare the square… if you dare!
The 11th Portland Zombie Walk is on Monday, October 31st from 3-6pm beginning and ending at Pioneer Courthouse Square.
Some administrative applications and fees are still pending so we will have our route map and schedule posted at a later time.
We invite all who know Michael Jackson's Thriller and the dance to join us in not one but two encore performances of the Thrill The World choreography on Pioneer Courthouse Square!
We are still doing our annual commemorative $5 bracelets as we have for the past 5 years. This year, for the first year, they glow in the dark! We only have 500 of them! Be sure to grab yours! The $5's collected goes to cover the permit fee's and insurance.
Thank you for your participation and support!
Happy Halloween!
———————————————
Related Portland Events & Giveaways
———————————————
———————————————
Our Portland Events App for PDX Pipeline is now available for iPhones, Android phones and iPads!
Now, you can have all of the great Portland events from our website in the palm of your hand when you're out on the town.
Download the App for iPhone here
Download the App for Android here
–————————
———————————————