From our sponsors: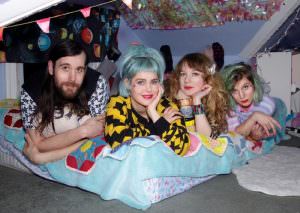 Tacocat
October 12, 2016
Doors 8 p.m., Show 9 p.m. | $15 | All Ages
More info: revolutionhallpdx.com
Revolution Hall
1300 SE Stark Street, Portland, OR
One of the weirdest things humans do is to classify half of all humans as niche. As though women's shit isn't real shit—as though menses and horses and being internet-harassed aren't as interesting as beer-farts and monster trucks and doing the harassing. That's why Tacocat is radical: not because a female-driven band is some baffling novelty, but because they're a group making art about experiences in which gender is both foregrounded and neutralized. This isn't lady stuff, it's people stuff. It's normal. It's nothing and everything. It's life.
The four actual best friends—Emily Nokes (vocals, tambourine), Eric Randall (guitar), Lelah Maupin (drums), and Bree McKenna (bass)—came together in their teens and early baby twenties and coalesced into a band eight years ago, and you can feel that they've built both their lives, and their sound, together. Hanging out with Tacocat and listening to Tacocat are remarkably similar experiences, like the best party you've ever been to, where, instead of jostling for social position, everyone just wants to eat candy and talk about Sassy Magazine, sci-fi, cultural dynamic shifts, and bad experiences with men.