From our sponsors: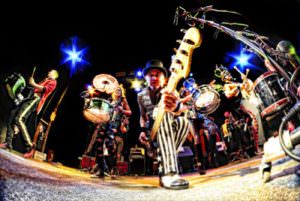 MarchFourth
October 28, 2016
Doors: 4 pm / Show: 5 pm | $22, $10 for 12 & under | All Ages
Tickets: revolutionhall.com
Revolution Hall
1300 SE Stark Street, Portland, OR
MarchFourth! is an internationally-acclaimed, genre-breaking FORCE in the world of live performance—a sonic explosion delivered by 15 musicians, (plus dancers and aerialists!) who travel the country, year-round, taking audience members from all walks of life on a joy-inducing, booty-shaking, soul-stirring journey that defies categorization. Word on the street: You have to see it to believe it!
Combining jazz, funk, rock, samba, Afro-beat, Gypsy brass and Big Band, with a visual kaleidoscope of stilt walkers, acrobats and Vaudeville-style artists, MarchFourth! whips the crowd into a celebratory frenzy with high-energy compositions, colorful costumes, hilarious stage shenanigans, and irresistible magnetism. This is not a band that simply puts on a show. MarchFourth! delivers a multi-faceted, indelible experience that leaves audiences flabbergasted and breathless!
"How do I describe this group? A sweaty, beautiful, chaotic, organized, hyper-realized, super-tight, fever-dream of a monster that defies categorization and pumps out so much beat and rhythm that the venue should soon call in a structural engineer because the roof was nearly blown clean off!"
-Yale Cohn, Little Village Magazine
"You could call MarchFourth a Vaudeville circus, or a sexy carnivalesque sideshow of animalistic proportions where all sense of decorum is beaten into submission. I call it a panoply for the senses, a celebratory feast of friends, a visually stunning performance that sears itself into your brain."
-Mike Greenblatt, The Aquarian