From website: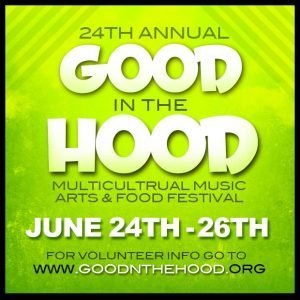 2016 Good in the Hood
June 24-26, 2016
Friday 6:00 p.m. – 9:30 p.m. Saturday 12:00 noon – 10:00 p.m. Sunday 12:00 noon – 8:00 p.m.
More info: goodnthehood.org
Lillis – Albina Park
N Flint Ave & Russell St, Portland
Come to the Good in the Neighborhood Multi-Cultural Music & Food Festival, featuring live music, a parade, an information Village, Market place, beer and wine garden and a youth venue, along with a kids space. The festival runs Friday, Saturday and Sunday (June 24, 25 and 26).
———————————————

———————————————
Our new Portland Events App for PDX Pipeline is now available for iPhones, Android phones and iPads!
Now, you can have all of the great Portland events from our website in the palm of your hand when you're out on the town.
Download the App for iPhone here
Download the App for Android here
–————————
———————————————