From our sponsors:
Moby Dick, Rehearsed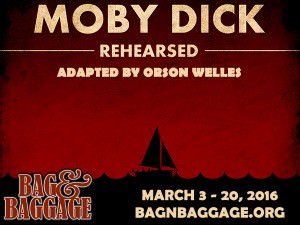 March 3-6, 10-13, 17-20, 2016
Thur/Fri/Sat at 7:30pm and Sunday at 2:00pm
More info: bagnbaggage.org
The Venetian Theatre
253 E Main Street, Hillsboro, OR 97123
503 345 9590
How does a theatre company take a nearly 1,000 page novel about a monstrous white whale and a 19th century Nantucket whaling ship with a full complement of sailors and perform it live on stage?
The first thing you do is get a mad genius like Orson Welles to do the adaptation.
Bag&Baggage Productions, Hillsboro's resident professional theatre, is proud to present a history-making performance of Welles' breathtaking 1950s theatrical experiment, Moby Dick, Rehearsed, at The Venetian Theatre from March 3 – 20, 2016. Moby Dick, Rehearsed has been called "an adventure in theatre going…there is literally nothing else anywhere like it in the theatre," by the New York Daily News.
Bag&Baggage is also the first company in history to receive permission from the Welles Estate to cast the lead role of Captain Ahab as a woman, continuing the company's long history of giving women artists access to iconic dramatic and literary roles traditionally played by men.
Herman Melville's quintessentially American novel Moby Dick, published in 1851, is considered by many critics to be among the most important works of the American Renaissance and contains perhaps the most famous opening line in all of American literary history; "Call me Ishmael." There is broad critical agreement that one of the most important literary influences on Melville's approach to Moby Dick was Shakespeare, and particularly King Lear. The novel is Shakespearean in its sweep and emotional range, and concerns itself with the nearly superhuman obsession of Captain Ahab to get revenge on the whale, Moby Dick, that nearly killed him and took his leg.
Orson Welles, famous for his movie Citizen Kane and infamous for creating a nationwide panic with his adaptation of War of the Worlds, played Father Mapple in the film verison of Moby Dick starring Gregory Peck as Ahab, filmed in the early 1950s. It is likely this experience encouraged him to turn his signature directorial eye towards Moby Dick in 1955. Welles proceeded to strip Melville's massive, epic, sprawling masterpiece down to its bare bones, transforming it from a 1,000 page novel to a less-than 2 hour play within a play.
"The basic idea of the Moby Dick, Rehearsed is that a group of Shakespearean actors is in rehearsals one afternoon before an evening performance of King Lear," said Scott Palmer, Director of the production. "The lead actor arrives and hands out copies of a new script, a rehearsal experiment, based on Moby Dick. Scripts in hand, the actors transform the empty rehearsal space into the docks of Nantucket and the deck of the Captain Ahab's ship, and then they start the hunt for the mythical Moby Dick."