From our sponsors: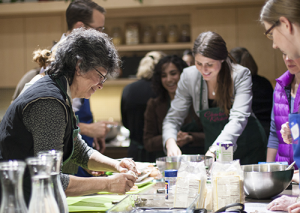 Food As Medicine Symposium: Healing with Food at Home
March 28, 2015
8:30 a.m.–4:30 p.m. | $50-$85 ADV / Doors $95 | All Ages
More info: foodasmedicineinstitute.com
National College of Natural Medicine
Academic Building, Room 107
NCNM Main Campus, 049 SW Porter St, Portland
The public is invited to join us for this one-day event to learn from physicians and nutrition experts on the use of specific diets to prevent and treat disease, and foods to create optimal wellness!
This is for anyone interested in learning more about using food as medicine at home: individuals, families, foodies, chefs.
Learn the facts and myths about popular diets and how and why to include nature's super-foods in you meals. In addition, hear from NCNM's Food As Medicine Institute co-founders, Drs. Courtney Jackson and Julie Briley as they discuss their practical approach to a whole foods lifestyle, including tools and tips for making great choices at the grocery store and in the kitchen… plus much more!
A popular event last year, there will be plenty of local food exhibitors with tasty samples and a delicious farm-to-table lunch, all included in your registration.
Speakers & Topics
The following are currently confirmed:
Julie Briley, ND & Courtney Jackson, ND: Practical Tips for Using Food as Medicine Everyday
Robert Ellis, DO, PhD, FACP, CS: Healing Food and Dietary Strategies for People with Cancer
Andrew Erlandsen, ND: The Benefits of a Low-Carb Diet
Ellen Goldsmith, LAc: East Meets West in the Kitchen – Using Chinese Dietary Therapies for Weight Management and Improved Energy
Chef Tressa Yellig of Salt, Fire and Time: Harness the Healing Power of Fermented Foods
Food as Medicine Marketplace
Come and visit with local Portland companies and find high-quality products that align with Food is Medicine. The day will end with a hosted happy-hour featuring local brew, cider and kombucha while you can hang out and chat with local vendors.
Pacific Natural Foods
Dick's Kitchen
HerbaFlora
And more to come!