From our sponsors: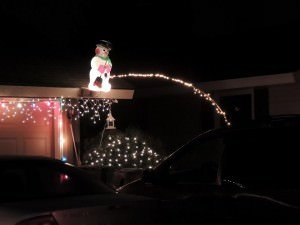 Feliz Navidad MFers!
Saturdays December 12, 2015 -January 2, 2016
$12 General, $9 Student & Senior
Tickets: brodytheater.com
Brody Theater
16 NW Broadway, Portland, OR 97209
(503) 224-2227
An improvised sleigh ride through the delights and horrors of the Holiday Season.
Directed by Victoria Parker Pohl
Looking forward to the holidays, warm family traditions, spending time with friends? Thrilled to begin the merry preparations? To maneuver clumsily through elbow-to-elbow foot traffic at a crowded mall and purchase gifts you can't be sure will satisfy, then awkwardly juggle great rolls of festive paper and tape and gift tags and scissors and undersized boxes while visions of not enough room for them under the holiday tree (or what-the-hell-ever) dance through your head to the tune of "How many bowls full of jelly will I need to feed the too-many people I don't want to see" right up to the moment you fling everything across the room screaming, I HATE the f-ing holidays!!
Well, we at The Brody Theater feel ya. Yep, we too know what it is to have Mad Tidings. And yet, fear not – we have some ideas on what to do with these guilt-frosted demons. Almost better than a dreidel – we can spin your chilblained thoughts into a toasty, frothy nog. Almost better than too many cups of toasty, frothy nog – we seasoned improvisers know how to make your weary spirits bright. That's right! You are invited! O, Come All Ye Painful and join the fun at The Brody Theater's First Annual Holiday Celebration: Feliz Navidad M-Fers! to sing and laugh and recognize your holiday struggles with gladdening exultation.
Directed by one of Portland's most iconic, hilarious and talented actresses, Mrs. Victoria Parker-Pohl
Victoria Parker-Pohl:
Victoria Pohl is a veteran actor, writer, director, and instructor of theater whose professional experience includes 15 years as a founding member of Waggie and Friends, Portland's first improvisational comedy group. Her earliest employment was as an Alice-in-Wonderland balloon-hawker in a holiday mall; most recently, she has taught as an Assistant Professor in Portland State University's School of Theater and Film.