From our sponsors: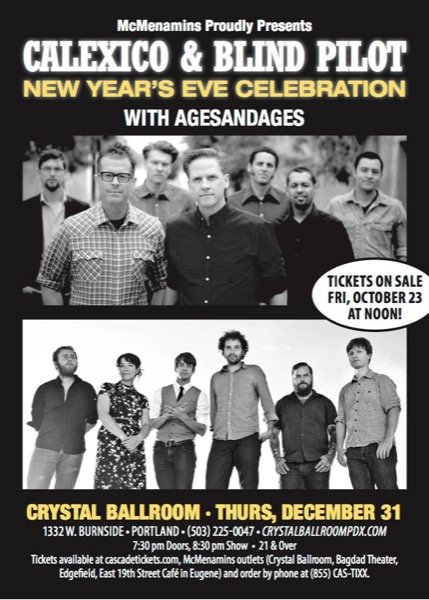 New Years Eve Celebration!
Calexico
Blind Pilot
Ages and Ages
December 31, 2015
7:30 p.m. doors, 8:30 p.m. show | $35 ADV, $40 Doors, $90 VIP ADV, $95 VIP Doors | 21+
More info: crystalballroompdx.com
Crystal Ballroom
1332 W Burnside St, Portland, OR 97209
(503) 225-0047
Join us to ring in the New Year with three extraordinary bands! VIP tickets are limited and include a variety of offerings. Lola's Room will be dedicated entirely to our VIP ticket holders with a specialty menu of hors d'oeuvres created by Chef Loren Barr, inspired by the music of the evening featuring delicacies of the American Southwest, and direct access from Lola's Room to a private viewing area and bar close to the stage. All VIP ticket holders will also receive a limited edition silk-screen event poster, and a champagne toast at midnight!
Calexico
Calexico is no stranger to negotiating borders. For the better part of two decades, eight albums, and countless trips around the globe, Joey Burns and John Convertino have crossed musical barriers with their band, embracing a multitude of diverse styles, variety in instrumentation, and well-cultivated signature sounds. Under fences it digs and over mountains it climbs, sometimes into untrodden terrain, sometimes towards a more familiar landscape, and sometimes simply walking that fine line to soak up sustenance from all sides. These are men from the desert, yes, but there has always been so much more to Calexico than just heritage and heat. Now, with Edge of the Sun, Burns and Convertino find themselves straddling that celestial division of light and dark, taking inspiration from a trip to a place surprisingly unexplored by the band before, and with the benefit of many friends and comrades to help guide the way.
"When I step back from this record I see the spirit of collaboration," says Burns. "As we began working on it, we started inviting people and it was a natural thing. We've always welcomed guests; it's in our DNA. John and I are really good at hopping in to play with people and improvise but we're also sensitive to what artists need."
Blind Pilot
Blind Pilot began in 2007 when Israel (vocals, guitar) and Ryan (drums) embarked on a West Coast bicycle tour playing mostly to unfamiliar listeners at small-town venues. The band now exists as a 6-piece ensemble featuring fellow Oregonians Luke Ydstie (upright bass, backing vocals), Kati Claborn (banjo, dulcimer, backing vocals), Ian Krist (vibraphones) and Dave Jorgensen (keyboards, trumpet). The band's second album, We Are The Tide (2011), which NPR noted "blooms agreeably from start to finish…" followed the band's grassroots break-out debut, 3 Rounds and a Sound (2008), which was featured in NPR's "Best Music of 2008" roundup. In the years since its inception, the band has toured with various world-renowned musicians including The Decemberists, Josh Ritter, The Low Anthem, Laura Veirs and Andrew Bird and appeared at the Sasquatch! Music Festival, Lollapalooza, Austin City Limits and the Outside Lands Music & Arts Festival.
Ages and Ages
Ages and Ages is not a cult. Sure, the seven-piece Portland group exudes enough electric joy that it feels like a big tent revival. And sure, one finds oneself using church words to describe the band's sound: a powerful, life-affirming and exploratory blend of lessons learned, set ablaze with a buoyant, unbridled optimism. And yeah, there are frequent lyrical references to voluntary seclusion, communal living and an existence "under the radar" littered throughout the band's debut, Alright, You Restless.