From our sponsors: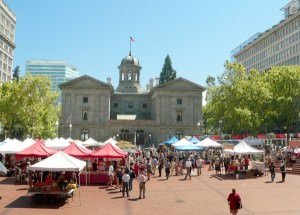 2014 Pioneer Courthouse Square Farmers Market
Mondays June 16-August 25, 2014
10 a.m. – 2 p.m.
More info: portlandfarmersmarket.org
Pioneer Courthouse Square
701 SW 6th Ave, Portland, OR 97204
The Pioneer Courthouse Square Farmers Market, presented by KINK, features over 30 vendors bringing locally-grown fruits and vegetables, berries, baked goods, flowers and a variety of artisan goods and prepared foods right to Portland's Living Room.
The market is open Mondays, June 16 through August 25 from 10am-2pm, and is located in the heart of downtown Portland at Pioneer Courthouse Square.
The Square is a hub for downtown office workers, commuters and tourists who flock to this market to pick up baskets of berries, beautiful bouquets and other locally grown and produced foods. Many people come to sit on the steps and listen to live music from local performers while enjoying lunch from one the abundant options available from crepes, dumplings and salads to pizza, sausages and quesadillas.
Come to KINK presents Portland Farmers Market at The Square to meet the faces behind your food, visit with your community and celebrate the bounty of our region.  For more details, visit www.portlandfarmersmarket.org.
See the full list of vendors at portlandfarmersmarket.org/markets/pioneer-square