From our sponsors: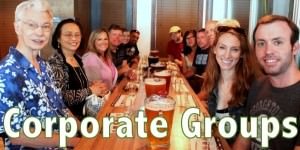 Holiday Party with BeerQuest PDX – Award-Winning Beer – Interactive Games
November – December 2014
$45+ | 21+
Reservations: beerquestpdx.com
Book a unique holiday party that'll really get your blood pumping. This competitive beer tasting experience pins teams against each other in a battle of wit, speed, and sobriety.
This is a laugh–out-loud, edge-of-your-seat beer tasting experience. Your group will be divided into teams and you'll compete against other teams in a variety of games. Outsmart your opponents to earn points, bragging rights and prizes. Lose, and you'll wear our ridiculous "loser hats" to the next bar.
What type of games you ask? We play a variety of games. Some are trivia, knowledge-based thinking games, while others are fast paced, hands-on competitions. Think Jenga, with a twist. Each game is specifically tailored to the tour and anyone can play.
The Beer & Board Games Tour lasts 3 rounds, each round taking place at a different bar or brewery in downtown Portland. This tour includes an expert guide / referee, beer tastings and all games and materials needed to play. Tours include 12 beer samples per person and a small prize for the winning team. Tours last about 3 – 3.5 hours.
Customizable tours are also available.
Beer Games Tour:
8-11 people: $55 per person
12-15 people: $49 per person
16+ people: $45 per person
* If you have less than 8 people, our base rate of $470 still applies