From our sponsors: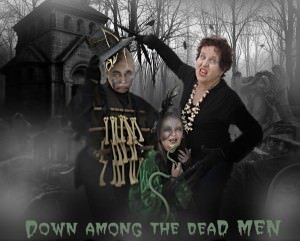 Down Among the Dead Men
October 24, 25 & 31, 2014
Doors 7:30 p.m. / 8 p.m. Show | ADV $15 / $20 Doors (cash or check only) | Adults & Mature Teens 12 and Older
Tickets: brownpapertickets.com
Hipbone Studio
1847 E. Burnside St., Portland, OR 97214
Three evenings of scary, heart stopping fun with bone chilling stories and songs that will make your toes curl.
For adults and mature teens
Anne Penfound, oral storyteller and Duo Artemisia, singing sisters Diana Tracy and Kathleen Wilkins present an evening of scary, heart stopping fun for adults and mature teens age 12 and over.
We will be presenting a best costume prize at each performance for those who like to dress up at Halloween
Anne Penfound has been telling stories professionally since 2002.
She has produced personal narrative shows,'Tales of an Ordinary Life' 2010, 'Through Thick and Thin' 2011, 'Reaching for the High Notes' 2012,and presented world folktales performances at Schools and Festivals.
Anne has worked in collaboration with other performance artists in the Pacific North West. These collaborations included sold out Halloween productions at Artichoke Music as a member of Storytellers Three an all woman storytelling troupe.'Arsenic and Artichokes' 2009, 'Tales from the Artichoke Crypt' 2010, 'Three in a Coffin' 2011 and 'Three in a Seance'2012.
Diana Tracy and Kathleen Wilkins, "Duo Artemisia"
Duo Artemisia is a sister act that love to sing together, and have been doing so for far too long to talk about. Their musical preferences are what defines "eclectic", and you can find them singing anything from opera to jazz. They hope you have as much joy in hearing them as they do in performing. and 'Duo Artemisia', singers Diana Tracy and Kathleen Wilkins