From our sponsors: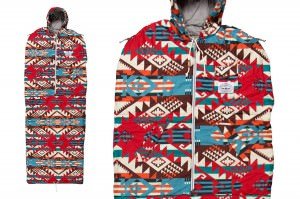 Poler x Pendleton Napsack
$130
Order now at polerstuff.com
Poler Outdoor Stuff is honored to partner with fellow Oregonian brand Pendleton Woolen Mills. It was a natural step in combining Pendleton's classic woven patterns with Poler's adventurous Camera Cooler, Rucksack , Rolltop packs, tents, and now our Napsack. The collection is complete with a Beach Towel, full size wool blanket and Towel Poncho. Pendleton has been setting the standard for classic American style since 1863.
Pendleton is a lifestyle brand recognized as a symbol of American heritage, authenticity and craftsmanship. With six generations of family ownership, the company recently celebrated 152 years of weaving fabrics in the Pacific Northwest, the collaboration was a much anticipated partnership bringing together Poler's color pallet and Pendleton's beautiful patterns to complete this collection.
The Napsack has zippers at the shoulders, so you can stick your arms out, and a cinch at the bottom so that you can open it up and stick your legs out. Hike it up to your waist, cinch it, and wear it like a puffy coat around the campfire, and then crawl right back into your tent without ever having to leave the warmth of your bag.
Perfect for summer trips, couch surfing, music festivals, jumping into after snowboarding, surfing or any other activity that brings your core temperature down. Its not too hot for inside and is awesome for wearing around the house in the winter.
The chest pocket fits a phone and has a pass through hole for your headphones to run internally, and it has pockets like a puffy jacket.
Sizing:
L – FITS UP TO 6'3"
M – FITS UP TO 5'8"
S – FITS UP TO 5'0″
Fabrication: Synthetic. Soft Microfiber body, leather tabs to cinch the hood. Rated to approximately 50 degrees.
All packed up in the stuff sack the medium Napsack comes in at 18″ by 8″ add a few inches in length for the large Napsack. If you throw it inside a compression sack it easily goes down to 8″ x10″