From our sponsors: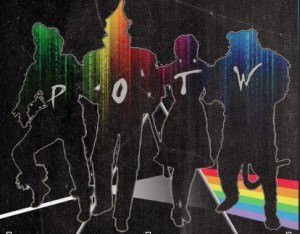 Pigs On The Wing: Dark Side Of The Rainbow
March 18 , 2016
Doors: 7 pm / Show: 8 pm | Minors OK w/ Guardian
$15 ADV / $17 DOS, Family Pass: $30 ADV / $32 DOS
Tickets: revolutionhallpdx.com
Revolution Hall
1300 SE Stark St, Portland, OR 97214
503 288 3895
Imagine the energy and electric intensity of Dark Side of the Moon era Pink Floyd – in an intimate theater or rock club environment…. Hailing from Portland, Oregon, Pigs on the Wing has been delivering just that spellbinding experience to wide-ranging audiences since 2006.
Pigs on the Wing brings an intense, high energy experience to the table that is both true to the original and unapologetic in its interpretation, something which the band members believe has set it apart from the other tributes from the very beginning. Since its inception in 2006 as a one-off performance of Dark Side of the Moon, to the band's current touring production which has included live renditions of the infamous Wizard of Oz sync, full performances of multiple Floyd albums, and music from every era of Pink Floyd's career, Pigs on the Wing heavily emphasizes the rock dynamics and psychedelic intensity of 1970s era Floyd.
The result is a show which is an authentic, accurately performed yet refreshing take on the music and experience of Pink Floyd that the band believes any Floyd fan will appreciate. And none are bigger Floyd fans than the members of Pigs on the Wing themselves. As vocalist Keeley St. Clair put it in a recent interview in Oregon Music News , "I think I can speak for everyone in the band in saying that we take good care to be stewards of the music that we admire so much as a band….It's a big responsibility to play such well-loved music".