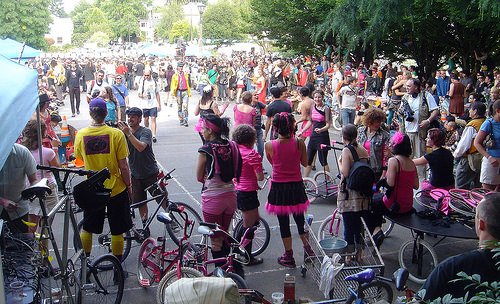 Portland's gigantic annual bike festival Pedalpalooza kicks off Thursday, June 6th and runs through June 29th! There are currently over 240 events on the website. We went through and found ones that look to be good, well attended, or should be interesting.
MOBILE APP: You can access nearly every Pedalpalooza event while you are on the go with our iPhone/Android app as well!
On the twitter? Follow @pdxbikes and the #pdxbikes tag. Also follow @pedalpalooza and remember to check out Jonathan's GREAT coverage on BikePortland.org
—————
Related Portland Events and Info:
———————————–
Portland Bike/ Pedalpalooza Picks | Thursday, June 27, 2013
————
BIKE TO THE CONFLUENCE (Pepperbox food cart, 2737 NE MLK, 9:00am, we ride at 9:30!): Have a breakfast taco from the Pepperbox cart, then ride through North Portland to Smith-Bybee Lakes and then to Kelley Point.
————
TRANSPORT YOUR ACTIVISM (Organics To You, 2030 N Williams Ave, 5:30pm – 7:30pm): Join AROW to ride Portland's bikeways to see what we want to change! We'll have maps & plans, contact info for complaints & suggestions.
This is a democratic ride, if there's some place you want to highlight and get letters out, contact me before the ride or just come and we can work it in.
Bring tape measures, radar guns, graph paper, smart phones, iPads, etc.
It'll be wonky. I'll bring toys, tools and documents.
————
#FEARLESS SUMMER – A RIDE FOR CLIMATE JUSTICE (Holladay Park, NE 11th Ave & Holladay St, 6:00pm, ride at 6:30): Ride for climate justice and visit local climate criminals with Portland Rising Tide.
————
BIG AND BEAUTIFUL- HERITAGE TREES (Pedal Bike Tours, 133 SW 2nd Ave, 6:30pm – 8:30pm): Ogle some of Portland's most awesome, towering trees on this 2-hour heritage tree ride led by Pedal Bike Tours. Pedal through lush neighborhoods and learn more about these beauties with a relaxing 8-mile ride suitable for all ages. Pedal is offering free bike rentals for the ride, if you don't have one.
————
UNICYCLE POLO (Alberta Park Bike Polo Court, NE 22nd Ave and Killingsworth St. (You'll find the polo courts near the corner of NE 22nd and Killingsworth St.), 7:00pm, We start around 7:00 and play until beer o'clock.): Do you ride a unicycle? Would you like the chance to attack people with a stick, while unicycling? Just want to watch? This is your event!
Find us at 6:30pm in Alberta Park, at the bike polo court, almost EVERY Thursday of the month. Unless it rains hard.
The Unicycle Bastards will supply mallets, balls, and minor first aid. Bring your own unicycle – any unicycle will do. Bring your own antibiotic ointment and discrete adult beverages (you did not read this here)
We also like attention – come watch if you are uni-curious.
Prepare to sweat/swear like a Bastard. Also, unicycles – not bikes.
————
MUSIC BOX RIVER RIDE (Irving Park, NE 7th Ave and Fargo St, Portland (Top of the knob) 7:15pm): The Music Box River Ride is back for Pedalpalooza! Come out for a sunset ride to the River – followed by a dance party/bonfire on the beach. BYO – there won't be a beer stop.
————
SILENT RIDE (TBA, 10:00pm): if a group of bikes rides by and no-one hears a thing, did they really ride by? yes, the s i l e n t r i d e. on the night before LiTnLOUD, silence. we love party rides! who doesn't? still, sometimes during the blissful chaos that is pedalpalooza, chilling and taking in your surroundings in active shared silence lets you listen to and feel everything a little more. a ten-mile long meditation, you might call it. or you might not call it anything.
————
————————————
Our new Portland Events App for PDX Pipeline is now available for iPhones, Android phones and iPads!
Now, you can have all of the great Portland bike events from our website in the palm of your hand when you're out on the town.
————————————