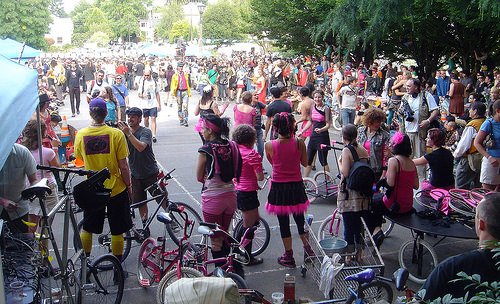 Portland's gigantic annual bike festival Pedalpalooza kicks off Thursday, June 6th and runs through June 29th! There are currently over 240 events on the website. We went through and found ones that look to be good, well attended, or should be interesting.
MOBILE APP: You can access nearly every Pedalpalooza event while you are on the go with our iPhone/Android app as well!
On the twitter? Follow @pdxbikes and the #pdxbikes tag. Also follow @pedalpalooza and remember to check out Jonathan's GREAT coverage on BikePortland.org
—————
Related Portland Events and Info:
———————————–
Portland Bike/ Pedalpalooza Picks | Friday, June 28, 2013
————
BREAKFAST ON THE BRIDGES, PEDALPALOOZA EDITION (On the Bridges! (Hawthorne Westbound and Lower Steel), 7:15am – 9:15am, Every Friday in June): Come celebrate your fellow bike commuters with FREE pastries, coffee, and companionship, on the Steel and Hawthorne bridges from 7ish til 9ish. Bring something to share if you like.
————
NICE RACK! (TBA – upon payment, Piedmont Neighbourhood, 12:00pm – 6:00pm): Pick up your rack early so I can goto the Dead Baby Ride!
Now is your chance to get a rack for the the love of your life – your BIKE. You have married it, now lock it up…at home, work or play. You install it. Why wait for it to disappear. Join us in a group order of bike racks (style choice: wall, staple, and power assist wall rack) and save on shipping etc. Log on to web page to find out about cost and selection. On the order of The Ministry for Secure Bike Parking.
————
THE DINGO DOWN-HILL!! (Top of the Hawthone Hill, SE 55th and Hawthorne St. (Western Seminary) 2:00pm, We RIDE at 2:15pm bombing downhill.): Dingo's favorite ride in Stumptown is: the drop from the Western Seminary- top o the hill, down Hawthorne to-the Hawthorne bridge- & across to Waterfront Park.
Not for slow pokes or butter fingers 'cause it could get really fast… but kids are welcome too.
An exciting colorful ride: with lots of laughs and lots of Portland.
Bring a camera!
————
GAYEST DAY OF THE YEAR RIDE (Oregon Park, NE Hoyt St and 29th Ave, 2:00pm, We ride at 3pm): The LGBQT bicycling community and allies are invited to join the Sexual and Gender Minority Youth Resource Center(SMYRC)as they host The Gayest Day of the Year Ride. A family-friendly bike-decorating party at Oregon Park kicks off the event, where you can learn more about various LGBQT resources and jazz up your bike for the ride. The three-mile ride begins at 3 pm, and non-riders can cheer on participants along the route or meetup for an ice cream social at Q Center afterwards. The event is free, but donation are requested to benefit SMYRC.
————
CYCLEPEDIA – FREE FOURTH FRIDAY (Portland Art Museum, 1219 SW Park Ave, 5:00pm): Grab your bicycle and a few friends, and head down to the Museum for an art-filled evening. Enjoy free and easy bike parking, free Museum admission, and snacks from some of Portland's finest pedal-powered food carts, including Taco Pedalers, Salt & Straw Ice Cream, Moberi-Bike Smoothies, Masala Popcorn, and more.
————
SKATE CRITICAL MASS (Saturday Market Fountain, SW Ankeny & Naito, 6:00pm): Skate in the street! Bring your roller skates, blades, scooters, and skateboards for a skate around town!
Third annual Skate Critical Mass and it gets better every year! Come join us for a skate around the city!
————
MAGIC THE GATHERING (Time Vault Games, 1224 SW Broadway , Portland, OR , 6:00pm): we will ride our bicycles to awesome outdoor spaces, cards shops, and elsewhere celebrating the fine game of magic: the gathering. you choose the irony level. we will be doing a magic draft at some point in our journey, participation in the draft is optional
————
PORTLAND LONGSHORE HISTORY TOUR (Skidmore Fountain, SW 1st Ave and Ankeny St, 6:30pm – 8:30pm, Please arrive on time, we'll only wait around a few minutes!): Portland has a long history of radical labor movements, come and learn a bit about the struggles of one particular industry! A couple of history nerds will lead this tour of sites relating to Portland longshore labor history. Want to know where a boat full of scabs was attacked by striking workers? How about where Portland police opened fire on pickets? What's the story was with the Oregon Criminal Syndicalism Act? And for the acronym crew we can learn the difference between the ILA, ILWU, MWIU, MTW, IWW and WEA. Mostly we just want to share the history, so come along if you want to learn!
————
BIG BOOM BOX RIDE (Laurelhurst Park, 3700 SE Ankeny St (Meet on Oak St.) 7:00pm – 9:00pm): Boom Box Ride, Low Wattage, keeping it under 500 watts. ( loud ones can ride, keep it real for the unfriendly). Close And Plays get to ride at the front of the ride. Helmets required. Travel the streets to Mount Tabor, ending at Col. Summers Park ( SE Belmont St. ) Who cares if we have 50 types of music, blaring at once!
————
LICENSED TO KILL – 007 RIDE (Bartini, 2108 NW Glisan, 7:00pm – 10:00pm, You'll make it to Loud & Lit): Bond. James Bond. All Bonds (even George Lazenby), villains, minions, Bond girls (yes, Ursula, put that bikini on!) come for a fun dress-up ride through the sophisticated NW neighborhood and thereabouts. Let's look good and shake (but not stir) things up.
————
LOUD AND LIT RIDE (1905 SE 45th ave, 10:30pm – 8:30am): 3rd annual Lit and Loud ride. Its back and will be crazier then ever
————
————————————
Our new Portland Events App for PDX Pipeline is now available for iPhones, Android phones and iPads!
Now, you can have all of the great Portland bike events from our website in the palm of your hand when you're out on the town.
————————————