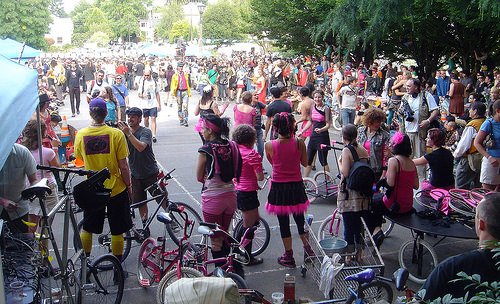 Portland's gigantic annual bike festival Pedalpalooza kicks off Thursday, June 6th and runs through June 29th! There are currently over 240 events on the website. We went through and found ones that look to be good, well attended, or should be interesting.
MOBILE APP: You can access nearly every Pedalpalooza event while you are on the go with our iPhone/Android app as well!
On the twitter? Follow @pdxbikes and the #pdxbikes tag. Also follow @pedalpalooza and remember to check out Jonathan's GREAT coverage on BikePortland.org
—————
Related Portland Events and Info:
———————————–
Portland Bike/ Pedalpalooza Picks | Saturday, June 29, 2013
————
ACCESSORY DWELLINGS (Shelter Wise's ADU, 2726 NE 66th, 9:00am – 1:00pm): Bike tour of clever accessory dwellings in N/NE Portland. We'll tour everything from a basement apartment to backyard cottages and garage conversions.
————
BIKES FOR HUMANITY VOLUNTEER REPAIR CLINICS (Community Exchange Bike School, 4038 SE Brooklyn St, Portland, 10:00am – 2:00pm, Every Saturday): Bikes For Humanity PDX(B4HPDX) is a community service project aimed at providing the public affordable refurbished bikes, repair classes & workshop space.
We have 100+ donated used bikes & need volunteers to catalog, clean and refurbish the bikes for bike adoption events.
Shop space has been donated for volunteer training and bike repair. Weekly volunteer clinics every Tuesday & Saturday. For full details see www.b4hpdx.org
————
PORTLAND ART MUSEUM CYCLOFEMME RIDE & MINI-SUMMIT (Ride starts Peninsula Park , 700 N Rosa Parks Way) 10:15am – 11:45am, The ride ends at the museum, the mini-summit continues until 3:30): This free ride is the start of a mini-summit at the Portland Art Museum celebrating women and bikes! Two pick up stops: Dawson Park (NE) at 10:45 (ish) and Vera Katz statue 11:15 (ish).
————
URBAN FARM COLLECTIVE GARDEN TOUR (NE 6 & NE Mason (At the greenhouse garden) 11:00am): Join us for a tour of the urban farm collectives fourteen gardens. Dressing as your favorite veggie is highly encouraged. There will be a picnic at the final garden made from ingredients found in our gardens along the way!
————
CYCLEPEDIA – CYCLE FEMME (Portland Art Museum, 1219 SW Park Ave, 12:00pm): The past, present, and future of women on wheels. The legacy of women and cycling in an automobile-dominated culture has remained largely hidden. Today a movement is afoot to invite and encourage even greater numbers of women to hop on bicycles (some designed and built by women) for everything from everyday commuting to cyclecross.
————
TINY HOUSE TOUR (N/NE) (In front of Rigler School, 5401 NE Prescott St, 2:00pm – 5:00pm): Rigler School, 5401 NE Prescott St
2:00pm-6:00pm
Bike tour of cute, innovative, tiny homes in N/NE Portland, all under 400sf. Have fun. Live small. Get inspired!!
————
MULTNOMAH COUNTY BIKE FAIR (SE 12th and Alder (In the closed off street.) 2:00pm – 8:00pm): MCBF is the catastrophic culmination of 3+ weeks of Pedalpalooza bike fun.
Local bikey artisan craft bazaar
Local food carts
As always, live music and crazy competitions.
Bring your friend. Bring your bike. Bring your sunscreen. Bring your camera. Bring your best game. Bring your bandages. Bring your bike fun.
Tall Tour Crew will be bring out their mobile sound stage.
With confirmed performances by:
The Sprockettes
DMLH
Saucy
————
K-POP & CUTE WARM FUZZY WALK (Jamison Square, NW 10th and Johnson (NW 10th and Johnson Street by Bear statue) 7:00pm – 8:00pm): We will wait until 7:15pm for stragglers to join us.
Come walk with Martha & Jerry, along with cuddly friends, as we lead you on a fun early evening tour of the beautiful Pearl District, while wearing your most adorable costumes (think K-Pop, CuteWarmFuzzy, or a combo). This is a family event, but well-behaved grown up fuzzies, are also welcome! Costume prizes! Music! Bring optional change for sweet treats. Rain, or shine. Wheels of all persuasions are invited. Dress accordingly. Not responsible for lost fuzzies. FREE. See you there!
————
F.A.M.O.U.S. – FIXED AT MIDNIGHT ON URBAN STREETS (TBA (Mystery Start Point (close in S.E.) 11:59pm, 10 mile race … half hour – 45 minutes.): FIXED GEAR ONLY (BRAKES OPTIONAL, I.E – NOT MONSTER TRACK)
T.B.A. "mystery start" location – (close in SE). (50 only) racer spoke cards printed with race course.
B-Side will be a street 'drip' artist racers number.
5 minutes till start time, a coin will be flipped.
Heads=course on spoke cards.
Tails=reverse course.
Points per 3.33 mile lap, prizes for top three finishers…
Lap one – (one=3 points, two=2 points, three=1 point)
Lap two – (one=4 points, two=3 points, three=2 points)
Final – (one=5 points, two=4 points, three=3 points)
$5 entry fee = prize pot.
————
————————————
Our new Portland Events App for PDX Pipeline is now available for iPhones, Android phones and iPads!
Now, you can have all of the great Portland bike events from our website in the palm of your hand when you're out on the town.
————————————