From our sponsors: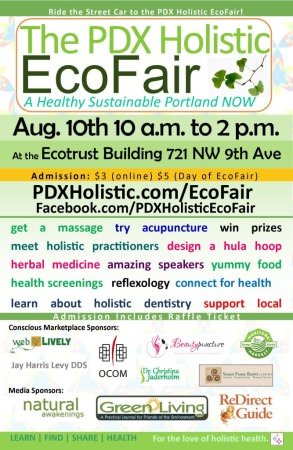 PDX Holistic EcoFair
August 10, 2013
10 a.m. – 2 p.m. | $3 ADV / $5 Door | All Ages
More info: pdxholistic.com
Ecotrust
721 NW 9th Ave #200 Portland, OR 97209
(503) 227-6225 | More info: www.ecotrust.org
The first PDX Holistic EcoFair will be held at the Natural Capital Center, also known as the Ecotrust Building, in the Pearl District on Saturday August 10th, 2013.
The EcoFair provides an opportunity for people to learn more about preventative, regenerative, holistic medicine and sustainable, healthy, local choices. The EcoFair showcases over 20 local conscious businesses and holistic practitioners, including authors, gluten free and vegan food, design-your-own hula hoops, and presenters.
Guests will get to sample doctor-made vegan chocolate by Missionary Chocolates, coffee from SE Grind, rye bread from Royal Rye, hemp products from Manitoba Harvest, and baby food from Zoey's Eats. They will also be able to try acupuncture and consult a naturopath at the Healing Space. The National College of Natural Medicine (NCNM) will be there, as well as Dr. Jay Harris Levy DDS who will be speaking about Holistic Dentistry. Dr. Satya Ambrose, co-founder of the Oregon College of Oriental Medicine (OCOM), will be speaking about the Chitari Foundation, her revolutionary integrative Holistic Hospital project.
The 2013 PDX Holistic EcoFair is packed with information and exhibits for the whole family. Some of the features include:
Conscious Marketplace – Some of the booths at the EcoFair will include: Lotus Heart Counseling, Web Lively, Dr. Jay Harris Levy DDS, Dr. Christina Jaderholm DC, Beautypuncture (aesthetic acupuncture), Missionary Chocolates, Manitoba Harvest Hemp Foods, Royal Rye, Zoey's Eats, Southeast Grind, Friends of Tryon Creek, and the National College of Natural Medicine (NCNM).
PDX Holistic Healing Space – A place for relaxation and regeneration, guests can experience acupuncture, massage, or consult with a Naturopath. The practitioners in this space will be Kevi Keenom LAc, Ross McCallum LAc, and Dr. Valerie Ferdinand ND. The artwork of Manifest Photography will bring the beauty of nature in as people experience the healing of holistic medicine.
Speakers – We will have several speakers and exciting topics, including: award-winning author Susan Pease Banitt LCSW, Dr. Satya Ambrose ND/LAc, Dr. Jay Harris Levy DDS, and Kevi Keenom LAc.
About The PDX Holistic EcoFair: The PDX Holistic EcoFair is dedicated to showcasing holistic healthcare and local conscious business and takes place Saturday August 10, 2013 from 10-2pm at the Ecotrust Building. Official media sponsors include Natural Awakenings Magazine, the Green Living Journal, and the ReDIrect Guide.