From our sponsors: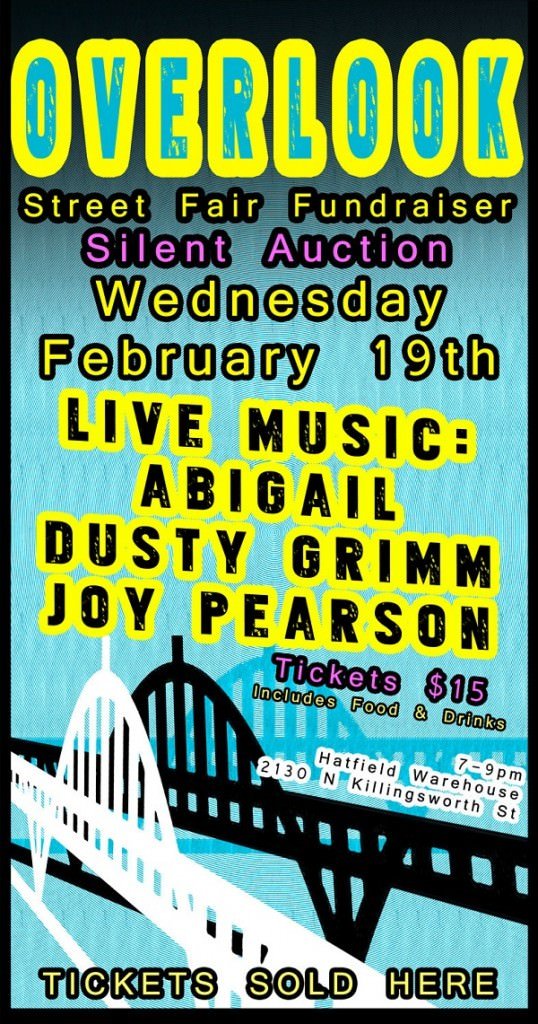 Overlook Village Silent Auction Fundraiser
February 19, 2014
7-9 p.m. | $15
More info: overlookvillagepdx.com
Hatfield Warehouse
2130 North Killingsworth, Portland
For the past five years, the Overlook Village Street Fair has been a great way to bring neighbors and local businesses together each summer. We've enjoyed every year; getting to know the hundreds of people who've attended and making a deeper connection with our community.
The Overlook Village Business Association is extremely grateful for all the support it has received. The positive response the fair generates has not only meant the opportunity to meet even more people in the community, but also an increase in expenses.
The OVBA has started planning its sixth street fair and needs your support. We hope you'll show your love for your local businesses by attending the OVBA's first-ever silent auction fundraiser. You contribution will make it possible to cover our costs and help make our event better than ever.
There will be many exciting items up for auction donated from local businesses, breweries, and restaurants (a complete list of available items will be posted on our website in early February). In addition to the auction, there will be live music from three local bands: Abigail, Dusty Grimm, and Joy Pearson. We will also have food and drinks (included in the ticket price).