From our sponsors: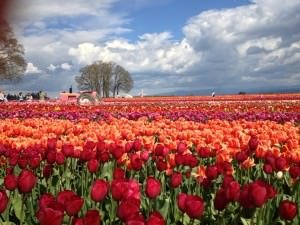 Wooden Shoe Tulip Festival
March 24-April 30, 2017
Daily 9 a.m.- 6 p.m.
$5 Per Person / $20 Max Per Car
More info: woodenshoe.com
Wooden Shoe Tulip Farm
33814 S. Meridian Rd. Woodburn, OR 97071
After a winter that seemed to have lasted forever, the 33rd annual Wooden Shoe Tulip Fest, will be a welcome sight when it opens on Friday, March 24. The cherished event centers around 40 acres of tulips and daffodils in nearly 120 varieties and every color, drawing visitors from the Pacific Northwest and around the world. The 2017 Tulip Fest is presented by Woodburn Premium Outlets and Papé Machinery.
"It has been a long, tumultuous winter and we are thrilled to say that the tulips have persevered and are coming up strong," said Barb Iverson, Wooden Shoe Tulip Farm owner. "We are excited to see people back out on the fields enjoying acres and acres of vibrant tulips with family, friends, and pets."
Daily Activities
Each day of the Tulip Fest visitors can enjoy hay wagon rides, cow and tour train rides, and a children's play area with slides and swings. There will be freshly picked tulips for purchase, flower displays to order for personal gardens, a great selection of food, and the world-class gift shop. The newly remodeled Wooden Shoe Vineyards tasting room will be open with daily wine tastings near the tulip fields from 11 a.m. until 6 p.m. Visitors to the Tulip Fest will have access to the beautiful four-acre Wooden Shoe Event Garden for their own picnics whether they purchased food at the event or brought their own meal from home.
All picture-takers from professional photographers to Instagram enthusiasts to scrapbook collectors will have endless amounts of opportunities for creating terrific pictures. Mt. Hood is an extraordinary backdrop for images of the multicolored tulips, especially in the early-morning or early evening light. In addition, the farm's iconic landmarks including the Wooden Shoe Tulip Farm's windmill and pink tractor, as well photo cutout boards throughout the fields will guide picture takers as they collect photographic treasures.
Special Events
The farm offers special events throughout the festival including photography classes, musical guests, and more. This year, the special events include:
Saturday, March 25: The Tulip Trail 5K/10K Run at 8:30 a.m.
Proceeds go to Oregon City Track department
Saturdays evening in April: Evenings at the Farm from 6-9 p.m.
Saturday, April 15: Easter Egg Hunt at 10 a.m. and noon
Sunday, April 16: Easter sunrise service at 7 a.m.
Saturday, April 29: Muddy Paws Fun Run at 11 a.m.
Proceeds go to Northwest Boxer rescue
On Saturdays and Sundays there will be additional activities including wooden shoe making demonstrations, crafter tents, an expanded play area, pony rides, jump tents, zip lines, and paintball. Adults 21 years and older can enjoy the Wine Wagon Farm Tour.
Visitors can check the weather conditions of the farm before their trip by visiting the Field Report on the Wooden Shoe Tulip Farm's website, or the farm's Facebook page.
Admission and Pricing
The Wooden Shoe Tulip Fest is open daily from 9 a.m. until 6 p.m. Individual admission is $5 per person ages 13 and above with a maximum car charge of $20. Children 12 years and younger are admitted for free. Information on additional pricing options such as group tours can be found online.
Save the Date
The Wooden Shoe Tulip Farm will be open during the summer of 2017 for newly-added tours, which include views of the spacious fields and scenery, information on the other crops grown at the farm, and background on the rich history of the local community. Delicious wine from the farm's vineyard will be available on the tours.
There is a lot of excitement around the solar eclipse viewing in the Willamette Valley in August. The Wooden Shoe Tulip Farm will be open for camping and other entertainment during the eclipse weekend on August 18 through 21. Reservations are required for camping.
About Wooden Shoe Tulip Farm
The Iverson family farm began in 1950 and the family started growing tulips in 1974. The Wooden Shoe Bulb Company started in 1983, and in 2001 they changed the name to Wooden Shoe Tulip Farm. The fields are open each year from the end of March to the first week of May. In recent years, the farm has added a Fall Gift Shop, and in 2014, the family announced the farm's newest addition, the Wooden Shoe Vineyards. For additional information, please visit woodenshoe.com.