From our partners: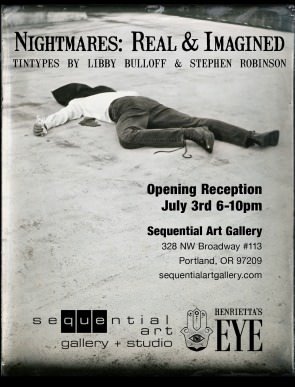 Nightmares Real & Imagined
July 3, 2013
6-10 p.m. | Free | All Ages
More info:
Sequential Art Gallery + Studio
328 NW Broadway #113, PDX
Exhibit on display through Saturday, July 27th
Sequential Art Gallery presents "Nightmares Real & Imagined", an installation of tintype photography by Seattle-based artists Libby Bulloff and Stephen Robinson. The exhibit opens on WEDNESDAY, JULY 3rd with an artist's reception from 6pm to 10pm.
Using the medium of wet plate collodion on aluminum – commonly known as tintype photography – Bulloff and Robinson have created a series vignettes to investigate the horrific and humorous imagery found in nightmares. Drawing inspiration from the collective unconscious, the photographs contain familiar themes – fear, loss, death, pain – with the intent to evoke emotional response from the viewers, thus making their reaction a part of the installation.
Bulloff is a self-taught internationally exhibited photographer, designer, and editor. Her brightly colored portraits and food photographs have been published in numerous books and magazines. She recently finished an exhibition of retrofuturism at the Museum of Ideas and Innovations in Barcelona, Spain. Libby is a member of the '57 Biscayne artist collective in Seattle, WA.
Robinson is a UI designer, metal fabricator and tintypist. Previously a graphic designer working for newspapers and non-profits, he moved to Seattle to put his designer's eye and hands to work restoring vintage European and Italian cars, culminating in the rebuild of a 1965 Alfa Romeo which won the 2010 six-day Pan-America race in Mexico.
The "Nightmares Real & Imagined" exhibit will be on display throughout the month of July, with gallery hours on Thursdays from 3pm-7pm, Saturdays from 11am-5pm, and by appointment. "Nightmares…" will close at the end of business on Saturday, July 27th.
Sequential Art Gallery + Studio is located in Old Town Chinatown at the Everett Station Lofts, 328 NW Broadway, #113. Open for business on Thursdays (3pm-7pm), Saturdays (11am-5pm), or by appointment, with opening receptions on First Thursdays (6pm-10pm). The gallery showcases local artists who explore the concept of sequential art, which is loosely defined as using consecutive images to tell a story. Curated by Kaebel JK Hashitani and Merrick Monroe.
ATTENTION: Due to the Fourth of July holiday falling on First Thursday, downtown area galleries will be hosting opening receptions on Wednesday, July 3rd instead.