From our sponsors: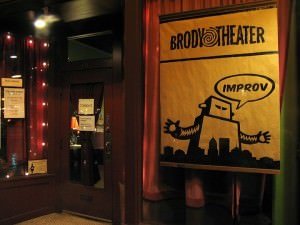 Naked Comedy Open Mic
Wednesdays & Thursdays
Doors 9:15 p.m. / 9:30 p.m. Show | Free w/ Food or Beverage Purchase
More info: brodytheater.com
Brody Theater
16 NW Broadway, Portland, OR 97209
(503) 224-2227
Many agree that there are very few art forms as vulnerable as Stand-Up comedy. The comedian stands in front of a room of strangers, wholly exposed and desperate to please. When it goes well it's an incredible rush for comedian and audience. When it doesn't go well it's a nightmare!
Brody Theater offers Portland's burgeoning Stand-Up community a remarkable playground for new work and up and coming comedians. We feature professional, working comedians alongside those brave new comers. Audiences rave about the Brody's Naked Comedy Open Mic, claiming it's "the most reliable laugh in town". Some of Portland'smost successful Stand-Up comedians began their careers right here and consider Naked Comedy their "home court". Join us for this night of fun and risk. Truly a gift to anyone eager to get their laugh on!