From our sponsors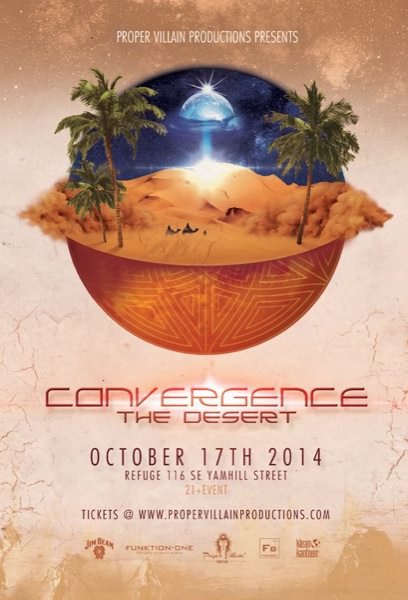 Convergence: The Desert
October 17, 2914
9 p.m. | $35 | 21+
Tickets: strangertickets.com
Refuge Pdx
116 SE Yamhill, Portland, Oregon 97215
Welcome to Convergence: The Desert.
This is a Proper Villain Productions Experience. Prepare to have fun.
_______________________________________________
Check out our video from last year.
RSVP on facebook here.
_______________________________________________
///MUSIC\\\
Minnesota is one of the most innovative and proficient electronic producers to come out of the West Coast bass music movement. His sound breaks aways from the various subgenres of EDM but holds onto origins of dubstep and hip-hop, creating a truly authentic experience for his audience. Early on in his career Minnesota said, "My goal is to make bass heavy dubstep/glitch-hop music that'll get you dancing, but it is not the same old three note transformer step… I try to focus more on the melodic side of dubstep, and hopefully, make quality songwriting a more relevant factor in the genre." For the past four years Minnesota has followed through on his word and designed smooth, melodic, uplifting sounds, which fans have celebrated nationwide.
(Formally DJ SLINK)
Huglife is not just a DJ. He is more than a producer. He is a musical pioneer. To party with DJ Slink is to have so much fun, it hurts. With over fifteen years of experience behind the decks, this guy knows how to rock a crowd. Not constrained to one genre, in his sets he veers into Moombahton, Bass Music, Trap ,Electro, Mashups and more.
Mikey Pennington, best known by his artist name Jackal, is a 23 year-old music producer and DJ. Originally from England, Jackal started producing when he was 19 while attending the University of Canterbury. From a young age Jackal has been musically inclined, learning to play guitar, drums and making beats on his keyboard at the age of 7. Since the release of his track "Shakedown", Jackal's presence in electronic dance music has quickly risen and continues to make an impression, his beats often finding their way into the sets of artists from Skrillex to Diplo.
In just the last few years, 22-year-old Santa Cruz producer G Jones has captivated young audiences across North America with his playful and expansive take on broken beat dance music. His live show weaves an ever expanding catalog of heavy knocking hip hop beats, cross-genre experiments, and expansive melodic riffs in a way that illuminates and drives the dance floor. With his irreverent attitude toward unimaginative EDM, this young producer pushes the envelope and blurs the lines between musical styles while maintaining a meticulous balance of minimal space and heavy bass.
Plantrae is an intricate, energetic and biotic sound experience originating deep in the rainforests of Cascadia. It is composed of a bass rooted, stretchy mid-tempo foundation and live viola improvisation that embodies the spirited essence of classical, swing and folk. Moving percussion blends seamlessly with glistening string melodies and vibrant synth lines, bringing folk and earth-inspired psalms into the bass driven universe of mid-tempo and broken beat glitch-hop.
West Coast Bass Maker NICO LUMINOUS is on a mission. His unique brand of "Glitch-a-delic Soul Whomp" fuses Melodic progressions, futuristic sound design and organic elements into sexy bass rollers. His original DJ sets journey through all tempo ranges and styles from Psychedelic Trap, Sensual Luvstep and Bouncey Mid-tempo Wobble jams. Hiphop, Dancehall, R&B, and Dub play a major influence in the Luminous sound to keep it grounded while travelling deep into to the sonic soundscape of modern synths and drum machines. Incorporating Beat-boxering, live looping, and a multitude of other instruments, his performances make for an unforgettable experience. He integrates his uplifting lyrics, and his well developed keyboard and Conga playing and often throws in his custom effects pedal belt for a show like you've never seen or heard before.

CHASE MANHATTAN of WE GOT THIS
As a distinct producer flourishing in the West Coast bass music scene, a DJ who understands the importance of the listener, and label mate of the forward-thinking brand 'We Got This', Chase Manhattan displays a truly inspirational love for music. After an EP release on Substruk Records under his belt and another on the way via Vermin Street, he is quickly becoming a fan favorite while consistently pushing forward in his journey as an artist. His work as a producer is grounded in a sense of familiarity with which the listener is instantly at home, while adding new flavors resulting in a sound all of his own. Currently he has garnered support from several highly acclaimed heavyweights, including Digi G'Alessio, Juke Ellington,Buzz Trillington, & Barisone.
Mr. Wu is a DJ, designer, promoter, screen printing ninja holding it down in Portland OR way of Vancouver B.C. His multi-genre DJ sets blend slow and sexy with future club-rockin' bass music. Driven by creativity and community, Mr. Wu is constantly finding new ways to grow as an artist while staying connected and growing with his inspiring community of friends.
Rap Class is an eclectic DJ and producer who has been operating out of the PNW for the better part of the last decade. His styles are routed in a heavy sample based audio collage and disco mix champion influence. He can deliver anything; changing the ins and outs of his routine is his specialty. Every time you see him it's like drawing a prize out from a bag. His one goal: to keep his audience guessing. Seeing him live, audiences may just learn that forward thinking electronic music doesn't merely exist in the present, but lives as a culmination of all music history, a fact to be presented by the right DJ at the right place & time: Rap Class.
DJ KOOLAID is a dj and producer based in Portland, Oregon. He plays mostly Electro House with a heavy influence from indie music, house, fidget. You might even catch him playing a dubstep or drum and bass set.
///PERFORMANCE\\\
BEAT MARAUDERS
Bridgetown Revue was born out of our compulsive need to create, connect, and inspire through the performing, visual, and tactile arts. Dance is inspiration, dance connects us to our bodies and our spirit. It is our hope that through sharing the strength, the sensuality, and at times silliness of life through dance and art, others will be sparked to create more, love more, and dance more!
///ART\\\
CUSTOM STAGE DESIGN
LIVE BODY PAINTING
///PLUS\\\
DINO TAROT
MASSAGE
TEA AND HOOKAH LOUNGE
FUNKTION-ONE SOUND from FUSEBOX PRODUCTIONS
PROFESSIONAL LIGHTING
_______________________________________________
///PROUDLY SPONSORED BY\\\
_______________________________________________
This year we will be offering TEN specially priced $10 scholarship tickets. Applications for these tickets are open NOW until the end of day on 9/28. We will notify winners the week of the 29th. To apply click here:http://tinyurl.com/PVPConvergence