From our sponsors: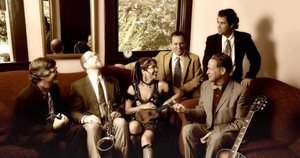 The Midnight Serenaders, The Rhythm Future Quartet
May 5, 2017
Doors 8:30 p.m., Show 9 p.m. | $15 | 21+
Tickets: ticketfly.com
The Secret Society
116 NE Russell St, Portland, Oregon 97212
The Midnight Serenaders, The Rhythm Future Quartet at The Secret Society
The Midnight Serenaders
Riding the crest of the neo-traditional jazz craze presently occurring on the West Coast, the MIDNIGHT SERENADERS are a six-piece swing band playing regularly to enthusiastic audiences throughout the Pacific Northwest. Performing vintage pop, Hot Jazz, and Hawaiian instrumentals, as well as an expanding collection of Jazz Age-sounding original songs, these six veteran musicians strive to share their love for the music of the 1920's, 30's and 40's. With an exciting stage show, tight musical arrangements, and outstanding solo and harmony vocals, MIDNIGHT SERENADERS fans include nostalgists, swing dancers, melody junkies, retro-clothing hounds, and folks who simply appreciate good quality, jubilant music.
The Rhythm Future Quartet
The acoustic jazz ensemble, Rhythm Future Quartet has a straightforward agenda: to keep the spirit of Gypsy jazz alive and expanding in today's musical universe. The virtuosic foursome, named for a Django Reinhardt tune, offers up a newly minted sound, influenced by the classic Hot Club of France, yet wholly contemporary. Led by violinist Jason Anick and guitarist Olli Soikkeli, the quartet performs dynamic and lyrical arrangements of both Gypsy jazz standards and original compositions that draw upon diverse international rhythms and musical idioms. With Max O'Rourke on second guitar and Greg Loughman on bass, Rhythm Future is dedicated to expanding the boundaries of a vital musical genre.
Where the band's self-titled debut album re-visited classic jazz and Gypsy jazz favorites, Travels, the quartet's current release, concentrates on group originals that make captivating use of musical sources from outside the conventional Gypsy jazz terrain. Travels reflects both the accumulated knowledge garnered from the groups world wide touring as well as the international influences that inspired new rhythmic and harmonic possibilities within their compositions and arrangements. Garnering critical acclaim, Travels was picked as one of the Best jazz albums of 2016 by All About Jazz and the Huffington Post.
Jason Anick, an award-winning composer and one of the youngest professors at the esteemed Berklee College of Music in Boston, has shared the stage with an array of artists including Grammy award winning guitarist John Jorgenson, Stevie Wonder, The Jim Kweskin Jug Band, and Tommy Emmanuel. Olli Soikkeli (coined "the Finnish boy wonder") recently made the move from Scandinavia to New York City, where he quickly became a top call guitarist in the bustling Brooklyn jazz scene. He has performed alongside rising star Cyrille Aimee, world-renowned Gypsy guitarist Stochelo Rosenberg, Bucky Pizzarelli and many others.
Max O'Rourke was the winner of the 2015 Saga Award from DjangoFest Northwest, and at 19 has already toured/recorded with many of the top American Gypsy Jazz musicians including John Jorgenson and Gonzalo Bergara. Greg Loughman is a top call bassist in Boston and has been heard with such luminaries as Sheila Jordan, Curtis Fuller and George Garzone.