From our sponsors: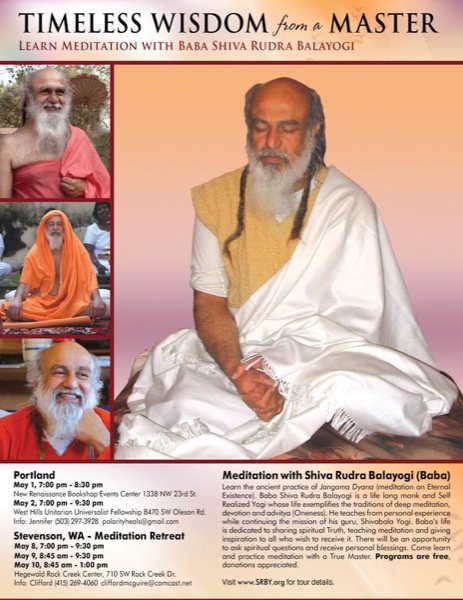 Meditation with Shiva Rudra Balayogi
Portland
May 1-2, 2015
7 p.m. | FREE
More info: shivarudrabalayogi.org
For more info call (503) 297-3928 or email [email protected]
May 1, 7 pm • 8:30 pm
New Renaissance Bookshop Events Center 1338 NW 23rd St.
May 2, 7 pm – 9:30 pm
West Hills Unitarian Universalist Fellowship 8470 SW Oleson Rd.
Stevenson, WA • Meditation Retreat
May 8, 7:00 pm • 9:30 pm
May 9, 8:45 am • 9:30 pm
May 10, 8:45 am • 1:00 pm
Hegewald Rock Creek Center, 710 SW Rock Creek Dr.
Meditation retreat is free. You are welcome to attend all or any part of the Retreat. Please RSVP for retreat. For more info, or to RSVP, call (503) 297-3928 or email [email protected]
Learn the ancient practice of Jangama Dhyana (meditation on Eternal Existence). Baba Shiva Rudra Balayogi is a life long monk and Self Realized Yogi whose life exemplifies the traditions of deep meditation, devotion and advitya (Oneness).
He teaches from personal experience while continuing the mission of his guru, ShivabalaYogi. Baba's life is dedicated to sharing spiritual Truth, teaching meditation and giving inspiration to all who wish to receive it.
There will be an opportunity to ask spiritual questions and receive personal blessings. Come learn and practice meditation with a True Master. Programs are free, donations appreciated.
Visit www.SRBY.org for tour details.