From our sponsors: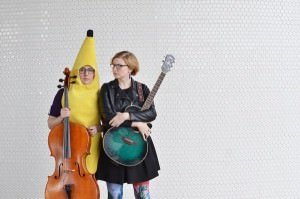 The Doubleclicks Variety Show
May 9, 2016
8 p.m. | $5-10 | All Ages (but not kid friendly)
More info: Facebook
Kickstand Comedy Theater
315 NW Davis St, Portland, OR 97209
The Doubleclicks are trying a new thing this year. Every month we'll be putting on a new show, but not just the same old Doubleclicks concert you're used to. The Doubleclicks Show is part sketch, part stand-up, and part musical. It's like if the Doubleclicks hosted SNL once a month and everyone on the show was sort of a nerdy feminist Portlander.
The next show is MAY 9 at Kickstand Comedy Space! It will include stand-up comedy by Zak Toscani, music by the Doubleclicks, and sketches by "Love You Squad": Lucia Fasano, Kyle McCormick, Kevin M. Arnold, Rich Malena, Aubrey Webber and Angela M Webber.
Unfortunately this show is not wheelchair accessible, there is a large staircase in an old building.