From our sponsors: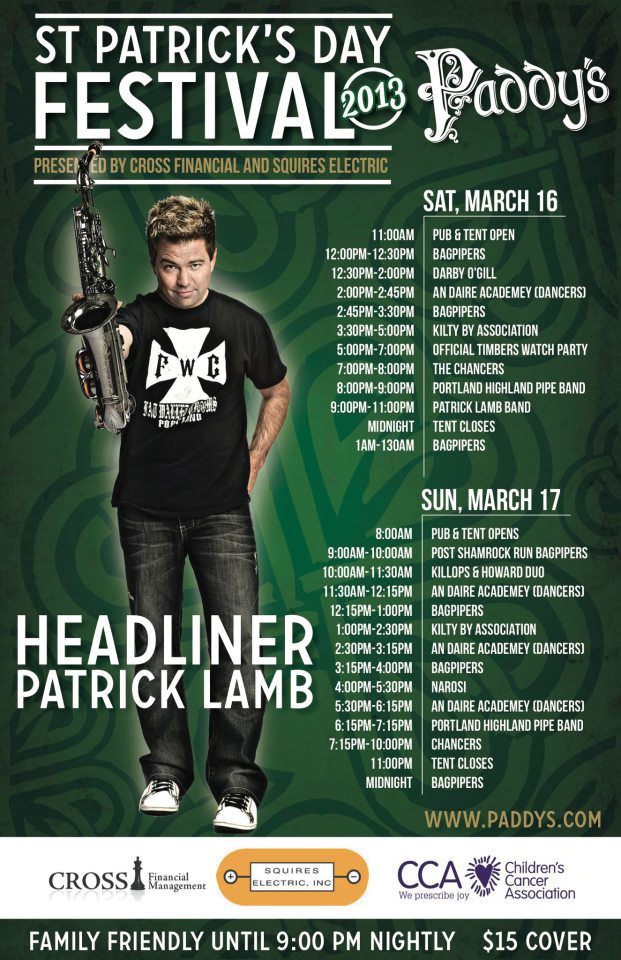 St. Patrick's Day Festival
March 15-17, 2013
$15 | All Ages Until 9 p.m.
Paddy's
65 SW Yamhill St Portland, OR 97204
(503) 224-5626 | More Info: www.paddys.com
Every year we ask ourselves the same question: why does St. Patrick's Day roll around just once a year? That's why this year's fest is a THREE DAY LONG EXTRAVAGANZA. You think we're joking?
FRIDAY, MARCH 15: THE PARTY FINALLY STARTS. Doors open at 11 AM and we're ready whenever you are.
SATURDAY, MARCH 16: TENTED STREET PARTY + TIMBERS VIEWING PARTY! The tent is up and Paddy's quadruples in size. We christen the party at 11 AM, and the 5 PM Timbers v. Seattle Sounders game will be playing live with sound both in the tent and pub. Live music, dancers, bagpipers and specials galore.
SUNDAY, MARCH 17: ST. PATRICK'S DAY! This time we'll have the beer, food and street party ready for you at 8 AM. Once again we'll have pipers, dancing and live music ALL DAY.
*We're rewarding all you courageous SHAMROCK RUN finishers with food & drink specials all day on Sunday — bring your race number.
*Festival VIP passes are available at Paddy's now. Each pass gives you FREE food all day, a private bar & bathroom, vip seating, NO wait and a grab bag full o' goodies (including drink tickets). Polish those dancing shoes and get out 'yer green.