From our sponsors: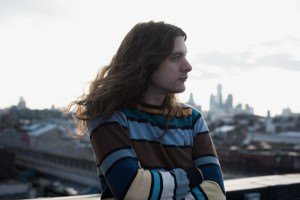 Kurt Vile and The Violators
October 17, 2015
7 p.m. Doors, 8 p.m. Show | $25 ADV / $30 Doors | All Ages
Tickets: crystalballroompdx.com
Crystal Ballroom
1332 W Burnside St, Portland, OR 97209
(503) 225-0047
Kurt Vile (real name) has slowly, quietly become one of the great American guitarists and songwriters of our time. Kurt was born in 1980, one of ten children, and raised in the city of brotherly love, Philadelphia. As a teenager, his bluegrass-loving father gifted him with a banjo, when what Kurt craved was a guitar – so he played it as if it were.
Bewitched by lo-fi figureheads like Beck, Pavement, and Smog, along with a love for classics like Petty, Creedence, and Neil Young, he recorded his first songs and self-distributed them on CD-R between 2003 and 2007. These were compiled on 2008's Constant Hitmaker and the 2009 mini-album God Is Saying This To You. The dreamy and psychedelic tangles of damaged but still-lyrical songcraft announced a major new artist wandering in from the hinterlands.
The Violators debuted on the 2009 EP The Hunchback, coming into their own on Childish Prodigy, Vile's third album and his first for Matador. More violent, more vivid, more ecstatically 'rock' than anything in Vile's catalogue, the album was a righteous leap forward. The album that followed, the breakthrough Smoke Ring For My Halo, was more reflective, something sun-dappled and sexy in softly strung-out strums like "Peeping Tomboy," the kindred flipside to barnstormers like "Freak Train" off the previous record. His fifth album, Wakin On A Pretty Daze, was a 69-minute double LP that alternated between gorgeous fingerpicking and heavy guitar workouts into dreamy, expansive songs that gradually unfurl like a massive flag. The next chapter in Kurt Vile's untouchable discography reveals itself in fall 2015.
Cass McCombs
Cass McCombs is an American musician who has released seven albums and one EP since 2002.
During the 1990s, McCombs played in countless bands at various DIY spaces in the Bay Area and the Pacific Northwest until he relocated to New York. In 2002, he released his debut "Not The Way" EP on independent Baltimore label Monitor Records. On his first trip to Europe in 2003, he recorded a Peel Session for John Peel, who described McCombs' music as "unobtrusively brilliant." In 2003, McCombs released his first album, "A," and that year toured with Baltimore's The Oxes as his backing band. In 2004, he performed at the UK's All Tomorrow's Parties and in 2005 released his second album "PREfection" on Monitor Records in the US and 4AD in Europe. In 2005 he toured with Modest Mouse. In 2007, "Dropping the Writ" was released on Domino Records and McCombs toured with Ariel Pink's Haunted Graffiti. Domino Records would release his next four albums: "Catacombs" (2009), which was voted one of the "50 Top Albums on the Year" by Pitchfork; "Wit's End" (2011); "Humor Risk" (2011), and "Big Wheel and Others" (2013).
In 2012, McCombs toured with John Cale and performed at Occupy Sandy, a benefit for the storm's victims. That same year, McCombs premiered his song, "Bradley Manning," on the Democracy Now News Hour.