From our sponsors: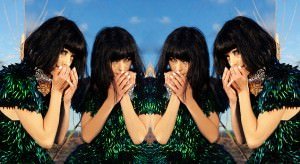 Kimbra
April 14, 2015
7 p.m. doors, 8 p.m. show | $25 | All Ages
More info: crystalballroompdx.com
Crystal Ballroom
1332 W Burnside St, Portland, OR 97209
(503) 225-0047
The Golden Echo album is a vivid, vivacious, and ambitious arc of pop and funk that conveys an array of questions and insights. It's an album both of youthful exuberance and mature introspection, from the opening track, the joyful "Teen Heat," to the closing one, the musing, yet still joyful "Waltz Me To the Grave."
It's at once a dancing record and thinking record, inspired by such diverse musical touchstones as Prince, '70s R&B, '90s pop (the first single is affectionately titled "90s Music"), and The Mars Volta, but heralding the full arrival of a distinctive artist. It's what Kimbra Lee Johnson has been aspiring to and working toward since her teen years in her hometown of Hamilton, New Zealand.
Front and center are Kimbra's own considerable talents as a songwriter, musician, programmer, and singer, but crucial are the contributions by a variety of notables, foremost her co-producer Rich Costey (Muse, Foster the People, Franz Ferdinand), who encouraged her to explore her mad-scientist/sonic-collagist instincts. Silverchair's Daniel Johns helped ignite her creative sparks, as did such all-star musicians as drummers John "JR" Robinson (Michael Jackson's Off The Wall, "We Are the World," Madonna, Daft Punk) and Matt Chamberlain (Pearl Jam), singer Bilal, guitarist Matthew Bellamy (Muse), Michael Shuman (Mini Mansions, Queens Of The Stone Age), bassist Thundercat, and string composer/arranger Van Dyke Parks.
And, oh right, the sheep. The Golden Echo really began to take shape right after she moved to a small sheep farm in the unlikely setting of L.A.'s Silver Lake neighborhood. It was a locale she found both inspiring and, crucially, grounding.
She moved there the day after the 2013 Grammy Awards show, the culmination of a whirlwind year in which she became a global presence via her ear-turning role on Gotye's international No. 1 hit "Somebody That I Used to Know," which earned her and Gotye honors for "Record of the Year" and "Best Pop Duo/Group." In that time she'd also introduced her own artistic vision with her debut album Vows. Now her head was awhirl with possibilities and potentials.
"I'd been caught up with all the Grammy and Gotye stuff happening, and the touring, the constant affirmation — or praise, or criticism, or self-reflection — everywhere," she says. "You get wrapped up in it. Then here I was chilling with a bunch of sheep. And they don't give a crap who you are. You're not special to them. You spend time with them and there's this beautiful kind of harmony of how everything works in that environment. It was a really great place to create."
Some of the songs were sketched out with her band before she moved from her previous home in Australia. But the new setting brought about a full flowering of both the layers of ideas she was developing and her talents to realize them.
"I wanted to walk in prepared with some ideas," she says. "So I collected a bunch of really inspiring instruments. Gotye lent me some little toys, like Omnichords and old samplers. ProTools has always been an instrument for me, so I was back in the lab in that sense. I was also dabbling with iPad apps for the first time, in a recording context."
It all galvanized when she chose Costey as her co-producer and set up shop with him in Burbank's Eldorado Recording Studio, having become a fan of the wide musical range he has shown in his work as a producer and mixer for the Mars Volta, Muse, Fiona Apple, and Philip Glass, among others.