From press release: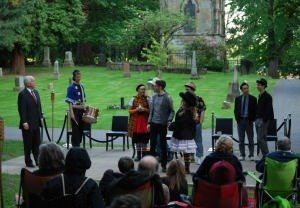 Picnic with the Departed
June 27, 2013
5 p.m. | Free | All Ages
More info: oregonmetro.gov
Lone Fir Cemetery
SE 20th, SE Stark, SE 26th and SE Morrison
More info: oregonmetro.gov
On June 27 at 5:00pm bring a picnic and enjoy an evening of live music, actors and festivities at Metro's Lone Fir Cemetery. Come and celebrate the new Chestnut Grove Memorial Garden, which offers families that choose cremation a chance to leave their legacy in a unique way at one of the region's most scenic cemeteries.
Live music performance by the Community Music Center's Madrigal ensemble, directed by Anna Briscoe.
Metro Councilors Bob Stacey and Shirley Craddick will welcome visitors. Followed by our keynote speaker Governor Barbara Roberts.
Portland Actors Ensemble will preview William Shakespeare's Macbeth. Catch this play the summer of 2015– at Lone Fir!
Learn more about purchasing a space in the Chestnut Grove Memorial Garden.
Enjoy your picnic while actors stroll the cemetery with stories of past Oregonians buried at Lone Fir.
Connect with the Friends of Lone Fir and the Lone Fir Cemetery Foundation to learn about efforts to preserve this nationally recognized cemetery.
This free event is sponsored by Metro. While visiting, please be respectful of residents buried at the cemetery, pets and alcohol are not allowed. Call 503-797-1709 for details or email [email protected]