––––––––––
––––––––––
From website: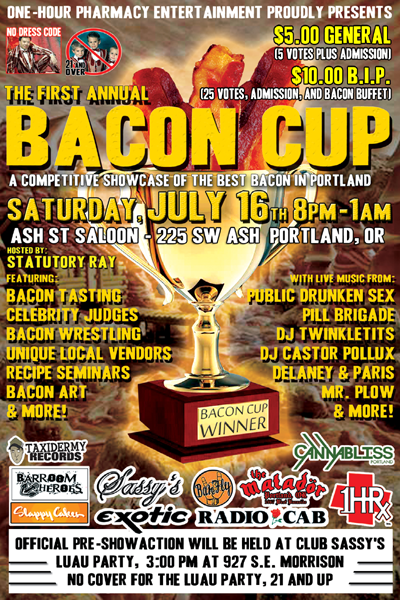 Portland Bacon Cup
July 16 | 8:00PM
Ash Street Saloon
225 SW Ash St in Portland, OR
Website: www.onehourpharmacy.com
General Admission – $5.00
B.I.P (Bacon Is Priority) Admission – $10.00
In the beginning, there was bacon. Not the beginning of time, nor the beginning of humanity… but the beginning of one's journey into a lifetime of appreciation for the sweet, candy meat known as bacon. Often responsible for the loss of one's tastebud virginity, bacon is the reason pigs exist. On Saturday, July 16th at the Ash St Saloon (225 SW Ash St in Portland, OR, roughly 8:00pm… the First Annual 1HRx Bacon Cup will make history…
Since bacon is pretty much the best thing ever, the fine folks at 1HRx Entertainment have decided to present a night of entertainment with a focus on competitive bacon creation, the best of which will be awarded the 2011 Bacon Cup (in addition to a shitload of promotional advertising material). Celebrity judges, as well as audience members, will be assisting in the cutthroat decision-making processes involved in the delivery of this prestigious award to it's rightful owner.
In addition to the usual Portland-area event shenanigans (live bands getting down, off-duty strippers getting dirty and Pabst getting drank), Bacon Cup features an impressive lineup of unique entertainment that includes bacon wrestling and a giant-tittied bacon-pastie-wearing DJ! Ever wondered how bacon was invented? Do you want to taste the secret bacon recipe that led to the arrest of Wombstretcha the Magnificent?…
… were you sold on this thing as soon as you read the word "bacon?"
Don't worry, 21-and-over kids, this will not be another flash-in-the-pan half-assed attempt at fun-having that is so commonly associated with Rose City concerts. Oh no. This is the First Annual Bacon Cup, and if you're not doing anything next Saturday, leave the kids at McDonald's and come on down to Ash St Saloon for Bacon Cup!
Schedule of Events
8:00-8:15 Opening ceremonies, introduction from MC Statutory Ray.
8:15-8:35 Live music from Mr. Plow.
8:40-9:00 DJ set from Twinkletits.
9:05-9:25 Live music from Delaney & Paris
9:30-9:55 DJ set from DJ Castor Pollux.
10:00-10:15 Celebrity judging, round one
10:20-10:25 Recipe seminar w/ surprise guest.
10:30-10:45 Celebrity judging, round two
10:50-10:55 Sponsorship announcement by MC Statutory Ray.
11:00-11:15 Celebrity judging, round three.
11:20-11:35 Final audience voting, live music by Pill Brigade.
11:40-11:55 Bacon wrestling w/ sexy Sassy's ladies.
12:00-12:15 Winners announced by MC Statutory Ray.
12:20-1:00 Live music from Public Drunken Sex (P.D.S.)
Official Contestants
Club Sassy's
The Matador (W. Burnside)
My Father's Place
Sausage Shack
Slappy Cakes
People's Sandwich of Portland
Nick Truby of WhatsTrubyEating.com
Jake Elwood
… plus more to be confirmed!
Celebrity Judges
Portland is full of famous folks, many of whom are experts in the field of baconology. In order to win Bacon Cup 2011, contestants must please the discriminating taste buds of the following famous folks:
Ed Forman, host of The Ed Forman Show! at Dante's.
Jed Aaker, aka Ambassador of Recreation (NW division).
Nik Sin, aka Mini Marilyn Manson (and Mini Kiss alumni).
Matt from Cannabliss, owner of Portland's only medical marijuana club.
Bea, aka the Smartest Stripper in Portland.
Thunder, professional wrestler.
Jay Horton, Willamette Week.
Phil Haleen, founder of Taxidermy Records.
Draydin the Damned, record-holding Damnnation Entertainment fire breather.
Wombstretcha the Magnificent, aka the Serial Rappist.
… plus judging from Mr. Plow, Delaney & Paris, P.D.S., and a few surprise guests!