From our sponsors: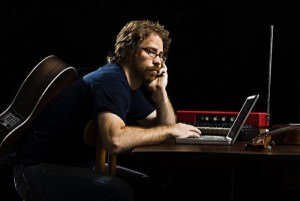 Jonathan Coulton + Paul & Storm
April 7, 2016
Doors 7 p.m., 8 p.m. Show | $27.50 ADV, $30 Doors | Minors OK w/ Guardian
Tickets: aladdin_theater.com
Aladdin Theater
3017 SE Milwaukie Ave, Portland, OR 97202
503.234.9694
Jonathan Coulton is from the Internet. While a struggling music industry fell to pieces over file sharing and shifting business models, he quietly and independently amassed a small army of techies, nerds, and dedicated superfans. His songs cover an eclectic range of subjects, from zombies and mad scientists to marriage and parenthood. In concert he moves fluidly between pathos and ridiculous fun. Seeing your first Coulton show is like walking into an insider club meeting, but one that gleefully welcomes and indoctrinates you in short order.
After leaving a perfectly good software career to pursue music full time, Jonathan embarked on a bold experiment in forced-march creativity called Thing a Week, in which he recorded and published a new song every Friday for a year. Much to his surprise, this plan worked, and he has since released many albums and toured all over the world. You may know him from many things, including the songs from Portal and Portal 2, his cover of Sir Mix-a-Lot's "Baby Got Back" (infamously hijacked by Glee), his theme songs for Rifftrax and the TV show "Going Deep with David Rees," or his work with longtime pal John Hodgman.
He owns and runs his own fan cruise called the JoCo Cruise, as profiled in Wired magazine. Through Kickstarter he funded a graphic novel based on his songs, and written by Greg Pak, called Code Monkey Save World. He is currently the One Man House Band for the NPR quiz show "Ask Me Another."
IS THERE ANYTHING HE CANNOT DO?
Paul and Storm (Paul Sabourin and Greg "Storm" DiCostanzo) have been writing and performing funny songs together for a long, long time, starting with their stint together in a cappella band Da Vinci's Notebook. Their music has appeared on pretty much every type of media that exists, they are co-founders and producers of the storied nerd variety show w00tstock, and they have had their guitar smashed by George R. R. Martin followed by a Neil Gaiman scolding.
In addition to their own performances, Paul and Storm are also co-founders of w00tstock, their geek-oriented variety show co-hosted by Adam Savage ("Mythbusters") and Wil Wheaton ("Star Trek: The Next Generation", "Eureka"), which has toured theaters across America since 2009 and whose guests have included Neil Gaiman, "Weird Al" Yankovic, Felicia Day and Chris Hardwick. The duo also co-produces JoCo Cruise, a Caribbean cruise/concert festival for fans of internet musician Jonathan Coulton, which first sailed in 2011.
The duo's musical webseries, "LearningTown", debuted on Felicia Day's Geek & Sundry YouTube channel in January 2013. The ten-episode series features all-new original songs by Paul and Storm, and includes such notable guests as comedy music legend "Weird Al" Yankovic, Maurissa Tancharoen (co-creator of Dr. Horrible's Sing-Along Blog and co-exec. producer of ABC's upcoming "S.H.I.E.L.D." TV series), fellow music-comedian Mike Phirman (half of Hard 'n Phirm, along with Chris Hardwick), James Urbaniak (voice of Dr. Venture on "Venture Bros."), and YouTube videomaker Greg Benson.
In 2013 their music was featured in Despicable Me 2, joining a long list of credits including the cartoon website Homestar Runner, web series The Guild and The Legend of Neil, "The Drew Carey Show", Comedy Central, NPR's Ask Me Another, the "Bob and Tom" syndicated morning radio show, and The Doctor Demento Show. Their fifth full-length CD, Ball Pit, was released in June 2014, and was the central item of the duo's wildly successful Kickstarter campaign.
They're also notorious for generating far-reaching Twitter hashtag memes, most notably #wookieeleaks and #kanyenewyorkercartoons.