From our sponsors: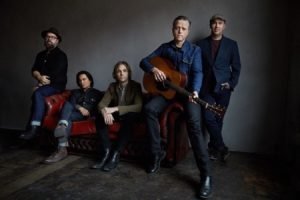 Jason Isbell & the 400 Unit
September 11, 2017
Doors 7 p.m., Show 8 p.m. | $35-$45 | All Ages
Tickets: ev6.evenue.net
More info: aladdin-theater.com
Keller Auditorium
222 SW Clay St, Portland, OR 97201
Jason Isbell and the 400 Unit's new album, The Nashville Sound, is a beautiful piece of American music-making, but watch yourself: it will light a fire under your ass. "You're still breathing, it's not too late," Jason sings.
This album is a call, and the songs on it send sparks flying into a culture that's already running so hot the needle on the temperature gauge is bouncing erratically in the red. And while it's understandable that, in this moment, some people want their radio to help them drift away, this finely calibrated set of ten songs is aimed right between the clear eyes of people who prefer to stay present and awake. It's a call to those who won't cower no matter how erratically the world turns, and who aren't afraid of what looks back when they look in the mirror. Bruce Springsteen did that. Neil Young did that. Jason Isbell does that.
There are songs on this album that cut to the chase. "Last year was a son of a bitch for nearly everyone we know," Isbell sings on the album's first single, "Hope the High Road." "But I ain't fighting with you down in the ditch. I'll meet you up here on the road." As singular as that lyric is, there's nothing coy or obtuse about it. Meanwhile, other songs here take a subtler tack.
Check out track three, "Tupelo." It plays like a warm ode to Northeast Mississippi-on the first few listens, it sure sounds like a loving tribute-but on the fourth you realize that the town the protagonist is extolling is actually a blazing hellhole. Perfect-as a hideout, anyway. "You get about a week of spring and the summer is blistering," Isbell sings. "There ain't no one from here who will follow me there." It's the kind of twist that compels the fifth listen-and the fiftieth.
Frank Turner & the Sleeping Souls
Frank Turner is aware of the passage of time, of the influence of days that drag and months that gallop can exert on what he would probably never dream of calling his body of work. After all, it has been a number of years now since the hardcore troubadour transformed himself from The Boy Who Surely Could Not, to The Man That Did; it has been years now that his name has appeared in the largest type on ticket stubs that permit entry to such venues as Wembley Arena, or the Royal Albert Hall; just as it has been years since the sound of his voice projecting itself from a digital radio was anything like a surprise, let alone a novelty.
Naturally, such upward mobility provides reasons to be cheerful, and in ways that it would be lazy to term predictable. But at the same time, the mindful songwriter will take heed: for in order to gain a foothold one can subconsciously lose an edge.