From our sponsors: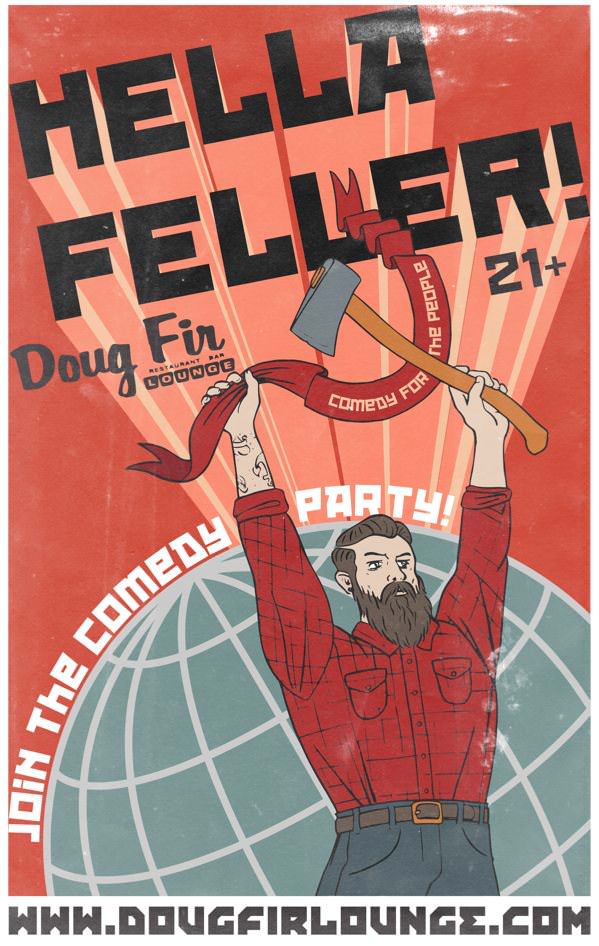 HELLa FELLER!
March 19, 2015
Doors 7 PM | $10 ADV / $12 Doors | 21+
More info: Facebook
Doug Fir Lounge​​​​​​​​
830 E Burnside St, Portland, OR 97214
(503) 231-9663 | More info + Tickets: dougfirlounge.com
Feller (n.)- A person who fells trees. A logger or lumberjack.
Hella (adj./v.)- 1. Several or being of many. 2. Not a real word. 3. Sups rad
Comrades. The revolution is on. Join the Comedy Party today! Too long have we labored under the idea that not all people can be funny. Reject the bourgeois ideals of stand-up and embrace HELLa FELLER!'s funny for the people.  All will laugh under the comedic powers:
Kristine Levine (SXSW, Edinburgh Festival Fringe)
Zak Toscani (Bumbershoot, Bridgetown Comedy Festival)
Veronica Heath (Bridgetown Comedy Festival, Portlandia)
Jason Traeger (New Deal Distillery's Comedy and Cocktails)
Jeremy Eli (Minority Retort at Curious Comedy Theater)
Neeraj Srinivasan (2014 Idaho Laughs Fest)
Plus Special Guests and Hosted by Trevor Thorpe
All to raise the spirit of the proletariat at Portland's preeminent venue of felled wood. The Doug Fir Lounge.
Act now. Join the Comedy Party today!