From our sponsors: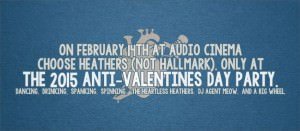 10th Annual Anti-Valentines Day Party
February 14, 2015
9 p.m. | $5
More info: Facebook
Audio Cinema
226 Southeast Madison Street, Portland, OR 97214
(503) 467-4554
The Heartless Heathers and Disc Jockey Agent Meow invite you to the momentous 10th annual Anti-Valentines Day party!
Wash away your heartache with stiff drinks and indulge in a ridiculous evening of inappropriate games, awesome raffle prizes, tasty food, and hot jams! Your Ice Queens, past and present, will be on hand to snap your photo, spin you in circles, mix your libations, and spank you silly.
From nine in the evening until they kick us out, your $5 cover will ensure you a night to remember! This event is 21 and over. AudioCinema is located under the Hawthorne Bridge @ 226 SE Madison. See you there!