From our sponsors: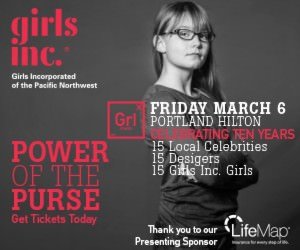 Power of the Purse
March 6, 2015
4:30 p.m. Doors, 7 p.m. Dinner & Live Auction | $40 Boutique / $175+ Boutique + Gala
More info: girlsincpnw.org
Portland Hilton
921 SW 6th Ave, Portland, OR 97204
(503) 226-1611
Girls Inc. of the Pacific Northwest invites local women and men to celebrate the 10th anniversary of Power of the Purse, a fundraiser to benefit Girls Inc. programs created from research-based curricula that equip girls with the confidence and self-esteem to drive toward a bright and economically-independent future.
The gala will include both a live auction and silent auction, boutique shopping, a fashion show featuring Girls Inc. girls modeling specially-designed purses, and dinner and drinks.
As in years prior, Power of the Purse 2015 will feature 15 Purse-o-nalities matched with 15 hand-picked designers to create one-of-a-kind purses that will be auctioned off during the event. The unique designs will tell the stories of each strong, smart, and bold Purse-o-nality and how their purse-everance lead them to where they are today.
Girls Inc. of the Pacific Northwest is excited to announce the following 2015 Purse-o-nalities: Venus Williams, professional tennis player; the von Trapps, musical group; Representative Suzanne Bonamici, Oregon's 1st Congressional District; Chris McGowan, president and CEO of Portland Trail Blazers; Mike Golub and his wife Sam Shelhorse, president of Portland Timbers and Thorns; and Heather Killough, philanthropist and owner of Lucky Limousine, along with 8 other inspiring women and men.
The 2015 Power of the Purse designers tasked with representing the remarkable Purse-o-nalities include the Nike Bags Team, Ellington Handbags, Spooltown, and Minou-Minou among others.
The Purse-o-nalities are matched with one Girls Council girl, providing a unique opportunity to expand her world, learn about various careers, and develop relationships with successful women and men in the community. This mentor relationship allows the Girls Council girl to further develop her leadership skills and build confidence in her bright future.
Tickets are $40 (boutique admission only), $175 (individual ticket with boutique and gala admission), and $1,000 (double date with boutique and gala admission), and are available for purchase now on the Power of the Purse website.
Girls Inc. would like to thank its 2015 Power of the Purse sponsors: LifeMap, The Standard, Comcast, Heather Killough, Knowledge Universe, Hanna Andersson, Kaiser, Trail Blazers, Walsh Construction, and Portland Monthly.