From our sponsors @ Bossanova: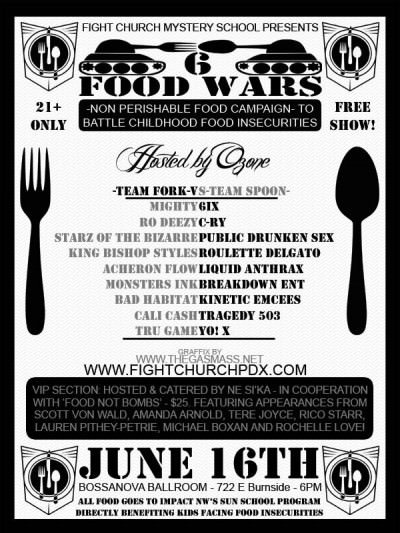 Food Wars 6
June 16, 2013
7:30 p.m. | $25 |21+
More info: boossanovalballroom.com
Bossanova Ballroom
722 E Burnside St Portland, OR 97214
(503) 206-7630 | More Info: www.bossanovaballroom.com
Food Wars is a contest between local emcees to see who's fanbase can donate the most canned food for hungry kids.
The Food Wars program was Fight Church's very first event, back in 2007 – back before they had numbers after them. We didn't call it FoodWars 1 because we weren't sure there would be a FW2.
Now 6 years later it has become one of Portland's most diverse and well attended community events.
We have used the "foodwars formula" to raise over 20,000 cans of food for Impact NW's SUN School program which addresses childhood food insecurities inside the classroom, sending kids home with backpacks full of food.
The "foodwars formula" works like this – we recruit high quality local hip-hop artists to engage their fanbases in response to the problem of hunger. Then whoevers fanbase shows up with the most cans, that artist is named King or Queen of the Hungry.
previous winners are My-G, Tragedy503, S1kOnes, and J-Ritz and Saywordz. We had no winner last year due to scheduling snafus.
This year we will be changing the formula and creating two teams to battle against each other, therefore creating more accountability and camaraderie.
currently scheduled to participate, and being divided into two squads:
Bad Habitat, Roulette Delgato, Mighty, Tragedy 503, Starz of the Bizarre, Yo!X, Acheron Flow, Jesus Pieces, Monsters Ink, 6ix, Kinetic Emcees, Breakdown Entertainment, Tru-Game, C-Ry (Oregon Coast is in the house), Thraxx Imaculate, Ro Deezy, Public Drunken Sex, Cali Cash, and last years champions J-Ritz and Saywords.
PS: We are currently looking for high-traffic local businesses to host our food barrels until the event.