From our sponsors: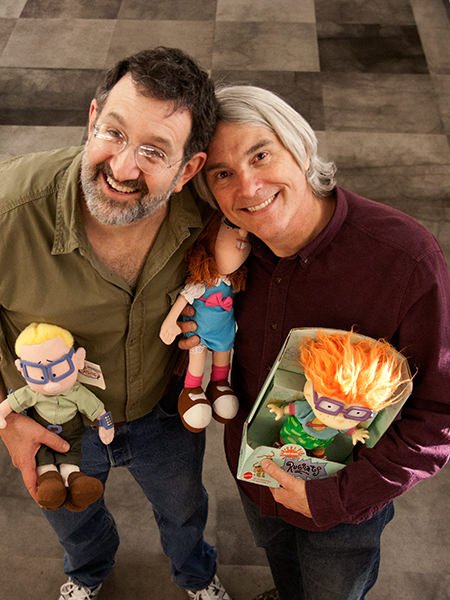 Film: 30 Years of TV Animation with Joe Ansolabehere & Paul Germain
September 24, 2016
7 p.m. | Adults $20/Seniors and All Students $15 | All Ages
More info: columbiaarts.org
Columbia Center for the Arts
215 Cascade Ave, Hood River, OR 97031
Paul Germain and Joe Ansolabehere are the creators, writers and producers of some of the most successful television animation of the last thirty years. Paul started his career in animation by helping to launch one TV's all time biggest hits – The Simpsons – then co-created the massive hit Rugrats, with Joe as his head writer and story editor. Joe co-developed the cult classic Hey Arnold, and then, together with Paul, created the hit show Recess for Disney.
The two friends first met at UCLA film school in the early 1980's. Paul got his first job working for producer/director James L. Brooks on films such as Terms of Endearment, Broadcast News, and Big. He was associate producer on Say Anything. When Brooks created The Tracey Ullman Show he wanted to use short animated bumpers between the show's sketches, and asked Paul to help a young artist named Matt Groening develop a project. That project became the original Simpsons shorts. With Gabor Csupo and Arlene Klasky, Paul created Rugrats in 1990, and asked Joe to be a writer on the show. Joe had been writing comedy feature scripts ever since he left UCLA, and Paul had always liked his work. As the Rugrats showrunner, Paul oversaw all elements of production, including writing, voice acting, storyboards, editing, and music. At the same time, Joe became head story editor, running the writing room for several seasons. Rugrats became a phenomenon, earning multiple Emmy Awards and helping to build Nickelodeon into the kids' powerhouse it is today.
Since the end of the 1990's Paul and Joe have worked on a multitude of projects. Together, they created and produced the animated series Lloyd in Space for Disney, wrote the Tinker Bell movie The Great Fairy Adventure, and helped create a new Pound Puppies series for The Hub, which won a Humanitas Award in 2012 for the episode "I Never Barked For My Father." Most recently, Joe has been writing and story editing shows for Disney Jr., including Sheriff Callie's Wild West, Miles From Tomorrowland, and Goldie and Bear. Paul is currently executive producer on a You Tube original series "Part Timers" – starring SMOSH!
poTENtial Program Series: 10 Years of Bringing Art to Life
You're invited to ten special 10th anniversary events in honor of CCA bringing art experiences to the Gorge since opening in 2006. Each event will focus on one art form, including literary arts, performance, music, theatre, visual arts, film, dance, comedy, cultural, and photography.
These events will begin with an interview with the artist(s), followed by a performance or presentation. CCA is proud to present this exceptional program series, and you're invited to join in the celebration.