From our sponsors: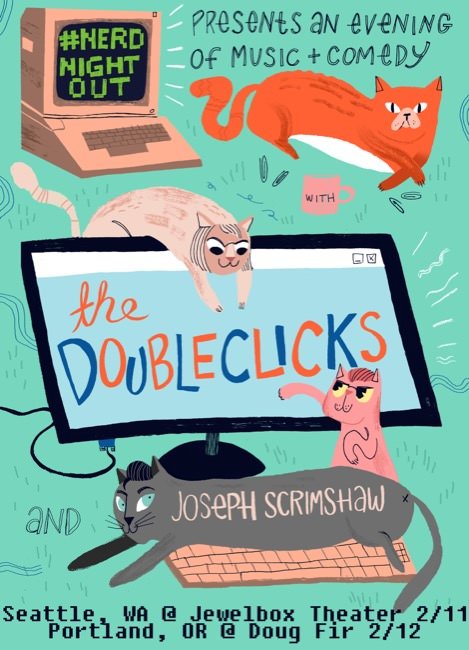 NerdNightOut presents: The Doubleclicks, Joseph Scrimshaw and special guests
February 12, 2017
Doors 7 p.m., Show 8 p.m., $15 – $17 | 21+
Tickets: ticketfly.com
More info: thedoubleclicks.com
Doug Fir Lounge
830 E. Burnside St., Portland, OR
Join Portland's nerd-folk band The Doubleclicks and comedian/writer/internet funny-man Joseph Scrimshaw for #NerdNightOut, an evening of feel-good comedy for the nerd in everyone. Expect Star Wars, social justice, cats, and dinosaurs! Doug Fir Lounge, 21+. Doors at 7:00 pm, show at 8:00.
About the acts
The Doubleclicks are a nationally-touring, Billboard charting nerd band with a cello, a meowing cat keyboard, and songs about dinosaurs, Cats & Netflix, space and Dungeons and Dragons. Their YouTube videos boast over 3 million views and have been featured on BoingBoing, Kotaku, the Huffington Post, and on NPR shows "Live Wire," "All Things Acoustic," and "State of Wonder."
Joseph Scrimshaw is a comedian and writer based in Los Angeles. A fan on Twitter once described Joseph as "geek flavored." Currently, Joseph hosts a comedy podcast called Obsessed on Feral Audio, a Star Wars podcast called Force Center, and a monthly live comedy game show called HEADCAN(N)ON at NerdMelt in Los Angeles. He's written for RiffTrax, Screen Junkies, and a bunch of cool TV, radio, and streaming shows that have all been canceled. It's hard out there for shows.