From our sponsors:
Drink From the Well – 1 1920s Speakeasy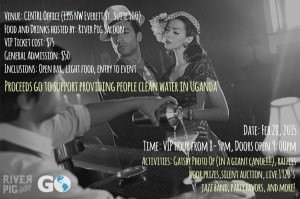 February 28, 2015
8 p.m. | $50
More info: eventbrite.com
CENTRL Office
1355 NW Everett, St. Suite 100, Portland, OR 97209
Come step back into time to celebrate the 1920's and the thrill of a Speakeasy! During Prohibition, alcohol consumption was illegal and hard to come by. Today, fresh water is hard to come by in developing countries around the world, so let's erase that problem just like we booted out Prohibition!
Party on! Buy tickets in advance to get the discounted price. At the event, participate in the silent auction or grab your free door prize entry for some awesome prizes. Auction items include a basketball signed by the entire 2014-2015 Portland Trail Blazers team with a certificate of authenticity!
Enjoy the OPEN BAR and light food hosted by River Pig Saloon, and don't forget to come dressed in your best 1920's attire to participate in the costume contest for the FANTASTIC prize from Blue Hour Restaurant. Enjoy 20's style music from our LIVE BAND, 12th Avenue Hot Club. Want to document your time in the 20's? Jump into your canoe photo station with props and a photographer for a forever memory of your time, and the difference you are helping to make!
Every cent of the proceeds goes toward funding our major freshwater project in Africa. Your attendance means being a part of changing the lives of nearly 1 million people in the Masaka District of rural Uganda. Please come be a part of this incredible party!