From our sponsors: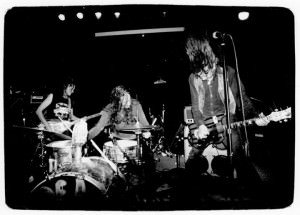 Dead Moon w/ Poison Idea & P.R.O.B.L.E.M.S.
January 4, 2014
7 p.m. doors / 8 p.m. show | $20 | All Ages
Tickets: crystalballroompdx.com
Crystal Ballroom
1332 W Burnside St, Portland, OR 97209
(503) 225-0047
Dead Moon
Portland's legendary garage-punk trio Dead Moon, fronted by the husband-wife team of Fred and Toody Cole, conjures images of hard-luck easy riders and lovers against the world. While their sound alternates between moody and aggressive, it is always remarkably genuine and energetic.
Fred began his enduring musical career at the very young age of 15. Many years and many bands later (after living through experiences as varied as homesteading in Alaska, dodging the Vietnam War draft, and hunting bears), the two formed a punk band called the Rats. Later, after adding Andrew Loomis on drums, Dead Moon was formed in 1987.
For almost a decade, Dead Moon released LPs on their own Tombstone label. All of those releases are vinyl-only and were cut on the same lathe that the Kingsmen's version of "Louie Louie" was cut on back in 1963. In 1991, they began to re-release the vinyl-only albums onto CD through Music Maniac in Europe and eMpTy in the United States, an effort that continued into the new millennium. Sub Pop released the retrospective Echoes of the Past, a collection of Dead Moon songs handpicked by Fred Cole, in 2006.
Poison Idea
Nihilistic Portland, OR, hardcore outfit Poison Idea was formed in 1980 by frontman Jerry A., guitarist Tom Roberts, bassist Chris Tense, and drummer Dean Johnson. The group debuted three years later with the EP Pick Your King, cramming 13 songs into a 16-minute time frame; the Record Collectors Are Pretentious Assholes EP followed in 1985, fine-tuning the band's blistering sound and fatalistic worldview.
Thanks to their notoriously insatiable diet of drugs, alcohol, and junk food, the members of Poison Idea all ballooned past the 300-pound mark by the time of the 1986 full-length Kings of Punk, with Roberts — who now tipped the scales at an impressive 450 pounds — rechristening himself Pig Champion in honor of the occasion.
Tense and Johnson were then dismissed from the lineup, although the former returned in time for 1987's War All the Time, recorded with second guitarist Eric "Vegetable" Olsen and drummer Steve "Thee Slayer Hippy" Hanford; Tense was then replaced by bassist Mondo for 1988's Filthkick EP. Both the Darby Crash Rides Again and Ian MacKaye EPs followed a year later, another period of roster tumult which made way for the addition of guitarist Kid Cocksman (soon replaced by Aldine Striknine) and bassist Myrtle Tickner. Poison Idea returned in 1990 with Feel the Darkness, with a series of live releases (the Official Bootleg EP, the Live in Vienna EP, and the Dutch Courage LP) preceding 1992's Blank Blackout. A collaboration with Jeff Dahl appeared a year later, concurrent with the covers album Pajama Party; however, in the wake of Pig Champion's subsequent departure Poison Idea disbanded, releasing their June 6, 1993, farewell gig at Portland's La Luna as Pig's Last Stand.
#83 of the Crystal Ballroom's "100 Nights"
Portland's Crystal Ballroom, as an ongoing entertainment staple for the city since 1914, celebrates its 100th birthday with a 100-day-long party! From October 14, 2013 to its actual centennial-mark on January 21, 2014, daily events will tumble forth from the historic Crystal Ballroom and its second-floor space Lola's Room, with an occasional spotlight pointed at the affable setting of Ringlers Pub.
Events will feature a mix of current national acts, the return of longtime Portland favorites, showcases of up-and-comers, and themed events inspired by key eras of the Crystal past. While the series will end with a bang – a performance by the Decemberists' Colin Meloy on January 21 – the entire run of shows will be stacked with stellar talent. Additional events will pay tribute to the Crystal's amazing history, with ballroom dance extravaganzas, old-timey/Americana dances, a gypsy-themed event, soul/funk shows and psychedelic jams.