From our sponsors: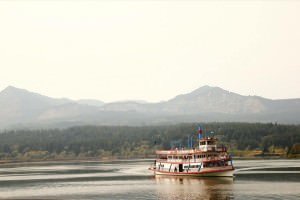 Columbia River Gorge Sternwheeler tours
Summer 2015
May – October
More info: portlandspirit.com
We offer discounts for groups of 15 or more. For short term booking, please call to confirm availability and times. Prices for all cruises are subject to change. Displayed prices do not include a $4.00 per-passenger landing fee.
——————-
Gorgeous Dinner Cruise: Stunning Vista Views and Fresh Northwest Cuisine.
No dinner can compare! Cruise along the Columbia River through the Historic Scenic Area aboard this authentic Sternwheeler. Our Executive Chef will delight with our seasonal menu featuring local ingredients, while Captain Tom will share with you the history and folklore that makes the Gorge unique.
——————-
Gorgeous Brunch Cruise: Scenic Champagne Cruise to Remember.
A top Brunch pick with a 2 hour cruise, bountiful buffet featuring locally sourced breakfast, lunch and dessert items prepared fresh on board, champagne, ever changing views and a narration of the sights.
——————-
Gorgeous Sightseeing Cruises: See More, Learn More!
Join us for a sightseeing cruise through the heart of the Columbia River Gorge. Learn about its formation, landmarks and natural wonders with Captain's narration. Join any one of our brunch or dinner public cruises as a sightseer or take advantage of our dedicated sightseeing excursions! Snacks and beverages from our full service bar are available for purchase on board.
——————-
Landmarks of the Gorge Cruise: Experience the wonder of the Columbia Gorge.
Cruise on the "Historic Columbia River Scenic Waterway" on the Columbia Gorge Sternwheeler. Glide past such natural and historic landmarks as Multnomah Falls, Beacon Rock, Bonneville Locks and Dam, and many others – all from the best view on the Columbia. Your day will be complete with our fresh Northwest cuisine.
——————-